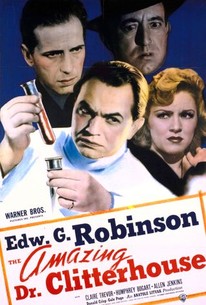 The Amazing Dr. Clitterhouse
1938, Comedy, 1h 27m
3 Reviews
100+ Ratings
Where to watch
Rent/buy
Rent/buy
Rate And Review
The Amazing Dr. Clitterhouse Photos
Movie Info
While conducting research on the physical impact of crime, Dr. Clitterhouse (Edward G. Robinson) decides to become a criminal himself. After a few jewelry thefts, the doctor meets Jo Keller (Claire Trevor), a major figure in the criminal underworld. He takes a liking to Keller and becomes a member of her gang, supplanting "Rocks" Valentine (Humphrey Bogart). Once he has enough data, Clitterhouse tries to return to his normal life, but Valentine finds out his identity and blackmails him.
Audience Reviews for The Amazing Dr. Clitterhouse
Silly drama made entirely worthwhile by a brilliant Edward G. Robinson performance.

It's interesting to see this described as a comedy. I wonder if the Humphrey Bogart character would see it that way. Although this might qualify as gangster-movie lite, if I were to put it into a comedy category, it would be comedy of the absurd. The ending alone would qualify this as absurd, when Robinson sits there in his seat, a free man, his only comment on the judicial process is that it is, "Amazing . . . amazing." And it is amazing that he, a murderer who pleads his own sanity, is found innocent by reason of insanity. That is absurd in the truest sense.

I highly recommend this movie, it is a crime drama with a bit of humor and suspense. A doctor becomes a criminal when studying criminals. Great cast too.

A fun pseudo-gangster movie about a doctor who submerges himself fully into the gangster world in order to write a book about criminal psychology. Edward G. Robinson is his usual enjoyable self as the doctor and Humphrey Bogart as his sort of nemesis in his standard Murderers Row fare. The cast foots the bill well enough but the story seems to make a weird turn every half hour. It goes from a heist picture to a fun gangster comedy, then to a half-assed courtroom drama. Its decent enough but beyond a little fun, all you're probably going to get out of The Amazing Dr. Clitterhouse are a few giggles out of the title. ...Clitterhouse...
See Details