Archie's Final Project
(2011)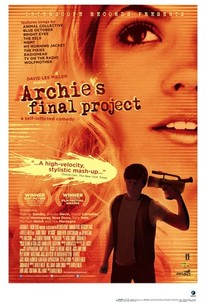 Archie's Final Project Videos
Archie's Final Project Photos
Movie Info
Archie Williams (Gabriel Sunday) is a 17-year old media geek who has suddenly found himself the most talked-about kid in school. He has announced that he's going to kill himself - on camera - for a class project. His classmates, parents, Sierra - the most beautiful girl in school (Brooke Nevin), and a "Shady Bunch" of shrinks, doctors, pill-pushers, and counselors descend on Archie. Some are hoping to save him, some want to imitate him, others try to push him over the brink. Archie films every moment of his high school experience, hiding nothing from his audience: realities of life, death, violence, sex, drugs, and the intense media overload and hypocrisy that bombard all teenagers.-- (C) Official Site
News & Interviews for Archie's Final Project
Critic Reviews for Archie's Final Project
Audience Reviews for Archie's Final Project
*** This review may contain spoilers *** My Suicide, a film which I saw a special screening, contains a strong point of view and a distinctive sense of humor that shouldn't be ignored. It also introduces most of us to a new young actor, Gabriel Sunday, who also is attached on the project as co-writer/editor/producer. While it's David Lee Miller's first feature film, and one would want to credit him with the editing style (not at all unlike Natural Born Killers only with the assistance of Avid, or is it Final Cut?), but it's more than likely Sunday's baby. And as it is, it's loaded with the kind of self-deprecating, crazy humor that one would expect from someone who is 16 or 17 and doesn't know what to do with themselves despite being in comfortable middle-class existence with access to technology up the wazoo. It's about human connectivity through media, and or what a self-portrait for a teen means when someone else enters the equation- or the whole school, for that matter. Basically, Archie wants to kill himself, or rather will only for the project in class which is to document something about one's life. For all of it calling back to Oliver Stone, it's still a refreshing way to get inside of this person's particular mind-set: it's like we're watching most times the actual movie Archie is meant to be presenting his audience, and then here and there the cracks of the third wall being broken and an actual movie going on about this making-of the movie. Some may find the opening ten minutes or so, which has less to do with direct plot than with setting up the tone and sense of humor, as aggressive, but it struck me as being just about right. That, and the very odd, nearly mystical and, sadly ironic, images of David Carradine as the "Death Poet" Vargas talking on camera about this and that like an old sage. He comes on later in the film- actually the more he's seen the less effective he really is- but it's mostly Archie's story, him and Sierra. Oh yeah, that's another thing too- it's a dark (super duper dark, more like tragic-dark) comedy about two teens with a similar suicidal edge who get into a relationship, one the awkward outsider with a penchant for ripping apart those around him (i.e. the c*** scene with the doctor), the other, Sierra, a super-hot "perfect" teen who dates and lot and also cuts herself with a razor. It's about this subject of suicide, and it's also about these characters coming to terms with it, actually being *alive* as they're plotting their own ends, and what that means in turn when it suddenly projects onto other students around them. It's a good message and often funny, even as its rapid-machine-gun-fire editing technique and warped visual cues with good old green screen go into overload. The big problem, for me, is a level of predictability that settles in. It doesn't go completely into after-school TV special territory, but it gets close; at least close enough for it to go into just being another teen drama, so to speak, with little spikes of humor in the last third (some, arguably, not totally appropriate, considering that it doesn't stick to its guns as a super-dark comedy till the end). But it's a problem that many in its desired demographic- whack-a-mole teens and their attentive parents- will be entertained and informed by. And, as well as announcing a new young star, it also features some unlikely movie references I enjoyed, such as from Goodfellas the "WHY DID YOU DO THAT!" screaming match between Henry and Karen.
Jack Gattanella
½
Archie's Final Project boasts a rather fascinating concept, a compelling story, and an inspired execution. The blame for its relative failure lies with the fact Archie's Final Project is utterly exhausting. A wiry hybrid of a found-footage movie and a faux-student film, Archie is relentless and frenetic. But when it asks us to slow down for a moment of emotional catharsis, you'll have already had enough. Archie's Final Project has a lot of important and resonant things to say, but the manor by which director David Lee Miller relays that message to his audience is flawed-too busy, too immature, too "look-at-me" to pack the punch it should. As you might expect, our lead character is Archie (Gabriel Sunday), and for the final project in his video class, he intends to kill himself on camera. The pronunciation shocks his classmates, teachers, and parents; Archie has always been a weird dude, but no one thought him suicidal. And while he's forced into therapy, the announcement had an unexpected side effect: A perpetual loner, Archie is suddenly popular. Everyone wants to chime in (as part of his film) as to whether his imminent offing is courageous or cowardly. One of the most interested parties is Sierra (Brooke Nevin), the girl Archie always had a crush on. She wants to interview him for the school paper, but their relationship develops into something more, which forces Archie to rethink his plans...assuming he actually intended to do the deed in the first place. A list or discussion of Archie's Final Project's positive attributes must start with Gabriel Sunday's performance. While Miller undeniably throws a lot at his audience, he also asks a great deal from his lead. Sunday, as Archie, needs to be creepy, alienating, and he must at least seem suicidal. He also needs to make us care about him and his story. If you don't, the film will never come across as sincere when it dials back. While I ultimately objected to a number of things about the film, the reason I responded to it at all is because Sunday is successful on this one crucial front. While the rest of the cast is comprised of familiar faces, they're those of character actors, and none particularly stands out. David Carradine, Mariel Hemingway, Nora Dunn, Joe Mantegna, and Tony Hale all pop up here and there, but none leaves much of an impression (it should be noted that none falls flat, either). The supporting character with the most screen time is Sierra, and Brooke Nevin proves more than capable of being a unique and surprising foil to Sunday's Archie. Where the film ultimately falls flat is in Miller's insistence upon styling Archie's Final Project into oblivion. No scene is shot or cut or even composed in a remotely straightforward way. He employs handheld camerawork (some of which makes no sense within the context of the film). He animates certain scenes. Everything is cut super quickly, and there are bursts of words and colors that fill the screen at the director's will. There's a rather beautiful story at the heart of this film, but it's buried beneath layers of artifice that are frustratingly distracting. Because Archie's Final Project is about something as heavy as teen suicide-and more to the point, because its method of storytelling is rather obnoxious-it isn't a film I'd recommend to anyone. But for all its flaws, I must say it isn't a film I'll forget watching anytime soon. http://www.johnlikesmovies.com/archies-final-project-review/
John Gilpatrick
A absolute disaster. From start to finish I couldn't get past how annoyingly it was filmed. The only reason I'm not giving it one star is because if filmed correctly there's actually a clever plot hidden in there.
Mark Kruis
Archie's Final Project Quotes
| | |
| --- | --- |
| Archie Williams: | don't judge me because it's jugement that defeats us all |
| Archie Williams: | Don't judge me, because it's jugement that defeats us all. |
| | |
| --- | --- |
| Sierra: | Whats your worst memory? |
| Archie Williams: | I guess it's that I have no memories. No wins, loses, or big tragedies. I'm just kind of here. |
| Sierra: | So your going to kill yourself because life's too easy? |
| Archie Williams: | There's just so much of everything, so nothing has any meaning. So what's the point? |
| | |
| --- | --- |
| Archie Williams: | Hell hath no fury like a horny teen with no outlet. |
| | |
| --- | --- |
| Archie Williams: | I was programed to behave the American dream. |
Discussion Forum
Discuss Archie's Final Project on our Movie forum!