Assassin's Bullet
(2012)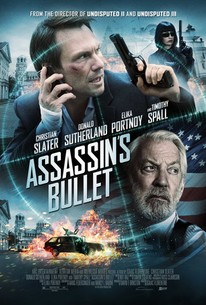 Assassin's Bullet Videos
Assassin's Bullet Photos
Movie Info
When an unknown vigilante begins killing high-priority terrorists from America's Most Wanted list in Europe, a former FBI field agent (Christian Slater) is brought in by the US Ambassador (Donald Sutherland) to discover the identity of the assassin. -- (C) Arc Entertainment
Rating:
R (for violence)
Genre:
, ,
Directed By:
Written By:
In Theaters:
On DVD:
Runtime:
Studio:
Cast
News & Interviews for Assassin's Bullet
Critic Reviews for Assassin's Bullet
Audience Reviews for Assassin's Bullet
One sentence summary: This was a terribly expensive and terrible vanity film. ------------------------ Bulgaria: Christian and Muslim, modern but also with horse-drawn carts, belly dancing and computers. Slater's character Robert works at the US embassy in Sofia on educational programs. He's a big tipper, and gives money and food to the unfortunate. He drinks a lot. His friend Kahn recommends therapy, but Robert would rather just avoid. He's former FBI; his wife was eastern European, but she was killed in New York. So he's staying away from New York, and being altruistic. Threads: Ashdown wants Robert to come out of retirement and hunt down some local thug. Kahn wants Robert to get on with his life. Elika wants to kill all the people who wronged her as a child. Robert works with Elika on a literacy project. Dr. Kahn treats Elika for her blackouts or syncope (wikipedia...'a transient loss of consciousness and postural tone, characterized by rapid onset, short duration, and spontaneous recovery...'). Robert starts working with Bulgarian police in Sofia, as arranged through Ashdown. Robert and one of the belly dancers become friendly. Robert and the police start with the killing of a Muslim Jihadist. Robert shows some police work. The film shows some crooked cops. Dr. Kahn gets Elika to let certain memories surface, such as her time in an insane asylum, and her recruitment and training into a group of assassins. She later visits the doctor dressed as her assassin persona. We get to see the sepia footage (again, again, again...I lost count) of her parents just before they were murdered. Kahn advises Robert to be careful, in case the belly dancer is just in love with his passport. The belly dancer dramatically drives a dagger into the seat cushion next to Robert's head, then runs off into the night. Robert follows, then catches up with her. She asks for a meeting later. Robert starts to put the pieces together. Does he ever make a difference? Sadly, no. ------Scores------- Cinematography: 6/10 Tends to be dark and blurred out. Sound: 8/10 No particular problems; just a bit boring. Acting: 4/10 Veterans Slater, Sutherland, and Spall were OK, given the weak screenplay. Portnoy was amateurish. Many of the supporting players were just terrible. Screenplay: 0/10 Fails as a thriller, since suspense was not sustained. Fails as a mystery, since the main character's problems were telegraphed from the beginning. Fails as an action-adventure film, since most of the combat is sniper action, or just unbelievable. As a psychological drama, it is poorly done. The endless repeats of the childhood trauma were not good exposition; they were just irritating. The interactions with Dr. Kahn might have been much better if the actor playing the psycho were better.
Ed Collins
(* 1/2): [img]http://images.rottentomatoes.com/images/user/icons/icon13.gif[/img] A rather boring action flick.
TTT C
Discussion Forum
Discuss Assassin's Bullet on our Movie forum!
News & Features