Bartok the Magnificent
(1999)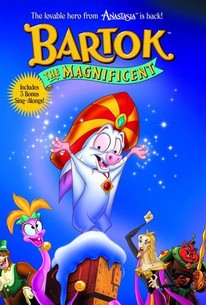 AUDIENCE SCORE
Critic Consensus: No consensus yet.
Bartok the Magnificent Videos
Bartok the Magnificent Photos
Movie Info
Ace animator Don Bluth directed this direct-to-video follow-up to his 1997 hit Anastasia, concentrating on the adventures of Bartok the Albino Bat (voice of Hank Azaria). Bartok and his best friend, Zozi the Bear (voice of Kelsey Grammer), are now making their way as street performers, but they find themselves drawn in when Prince Ivan is kidnapped by the wicked Ludmilla, who wants to get rid of the man who stands in her way as heir to the throne. Bartok and Zozi decide they must come to Prince Ivan's rescue, and they confront the evil and powerful witch Baba Yaga. Along with Azaria and Grammer, who repeat their roles from the original, Bartok the Magnificent features voice performances from Jennifer Tilly, Catherine O'Hara, and Tim Curry. ~ Mark Deming, Rovi
Rating:
G
Genre:
,
Directed By:
Written By:
In Theaters:
On DVD:
Runtime:
Studio:
Twentieth Century Fox Home Entertainment
Critic Reviews for Bartok the Magnificent
All Critics (2) | Fresh (1) | Rotten (1)
This uninspired, but mercifully short, adventure will hold some amusement for little kids but bore everyone else.

Audience Reviews for Bartok the Magnificent
This is one of the worst animated movies I've seen. Considering it's a sequel to historical fiction, I would go as to say this is on parr with animated Titanic. It takes the fairytale bit way to far to the point where it doesn't make sense to fit in a real-world historical setting. The main character was not useful or interesting enough in the first movie to warrant being a star. What's worst is that the character is a greedy coward and self glorifies himself. The townspeople sure admire him though. It's like if they made a movie based around Gaston as the hero. The animation is definitely Don Bluth, but it's really lazy animation. Worst then The animation in Pebble and the Penguin and Thumbelina. It looks like it was made in flash. It looks like really good flash, but not really acceptable for an animated home video release banking on a theatrical movie. A vast majority of Disney sequels had better animation then this. And yes, I did mention Don Bluth earlier. You might not want to believe it, but he did direct this. And all I can say is it's sad to see him stoop this low. The plot is cookie-cutter "royalty tries to do away with royalty" story with every obvious twist in the end. Bartok tries to... nevermind. I cannot explain what flixster hasn't already. All I can say, this movie ruined Don Bluth for me and I can officially say it's his worst. (even worst then Troll in Central Park) Watch at own risk, especially if your a Don Bluth fan. It will come close, if not crush, your enjoyment by this director. It's sad, I really did admire Don. Hopefully he can come back and put this one far far behind him
Jacob Gossett
This movie is passable. The animation is nice, and some of the songs are fine. But this direct-to-video film has one major drawback; It's boring. It may be very short, but its uneventful story makes it drag and seem to go on forever. I only recommend this movie to kids and hardcore Don Bluth fans, like myself.
Trevor Liedtke
½
Quite original. but very boring(For most adults, and teens, I found it quite good, but I just don't like ones with bad endings) it was pretty good, for the children, but adults will punish there children, by not buying this for them, cause there shelfish selves don't want to have to listen to it, although it is completely suitable...ad actually pretty good for children to see. So, please, don't punish them, cause obviously, you never had a childhood if you would.
Joseph Eastmond
Super Reviewer
Bartok the Magnificent Quotes
There are no approved quotes yet for this movie.