Beyond the Forest
(1949)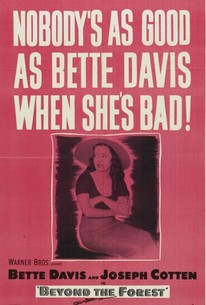 AUDIENCE SCORE
Critic Consensus: No consensus yet.
Movie Info
In this film, Rosa, the self-serving wife of a small-town doctor, gets a better offer when a wealthy big-city man insists she get a divorce and marry him instead. Soon she demonstrates she is capable of rather deplorable acts -- including murder.
Critic Reviews for Beyond the Forest
All Critics (4) | Fresh (3) | Rotten (1)
Davis excels as the passionate but stranded housewife who describes her suffocating community as "a two train a day town." The expression What a Dump, which Liz Taylor repeats in Who's Afraid of Virginia Woolf comes from this Vidor-directed melodrama.


Ozus' World Movie Reviews
Audience Reviews for Beyond the Forest
½
a true camp classic. bette's performance as one of the most twisted and evil of all femme fatale in filmdom has to be seen to be believed. i can't even say whether or not this a good movie. i only know it's a hugely entertaining one. don't miss it
Stella Dallas
Super Reviewer
½
Like an earlier King Vidor film, Duel in the Sun, this has heaps of camp appeal. The story of a small town femme fatale with big city aspirations. Bette Davis is a powerhouse, absolutely spellbinding. Her character is diabolically evil, and yet more than a little sympathetic. Who wouldn't feel stifled by a life of lumber mills and square dances? I see a lot of other reviewers describing her performance as "bad"... sure, it's trashy and over the top, but you can't take your eyes off her. Joseph Cotten has the thankless role of the nice guy, but he's Joseph Cotten so it's cool. The film sports a number of memorable moments (Davis lamenting "If I don't get out of here I'll die. If I don't get out of here I hope I die and burn!" while the mills shoot flame into the sky in the background is unforgettable), some killer lines, and a hell of an ending. The "What a dump!" line will be familiar to any fan of Who's Afraid of Virginia Woolf, where Elizabeth Taylor tries to recall the name of this movie. Max Steiner's score is typically overblown, but for once it seems appropriate. Davis herself called the movie "terrible", but except for the lousy opening narration, I think it's a knockout.
Martin Teller
Wild lurid junk with Bette consuming whole portions of the scenery whole to try and save it.
Discussion Forum
Discuss Beyond the Forest on our Movie forum!