Blood Feast 2: All U Can Eat
(2003)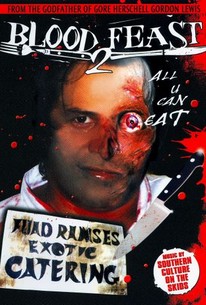 AUDIENCE SCORE
Critic Consensus: No consensus yet.
Movie Info
Herschell Gordon Lewis and David F. Friedman, the director/producer team who made exploitation film history in the early 1960s with their then-daring "nudie cuties" and later the first "gore" films, return to the scene of their most infamous project with this sequel, which marked their first collaboration since 1964 (and Lewis' first directorial effort since 1972). Fuad Ramses III (J.P. Delahoussaye), whose grandfather's cannibal tendencies were ended when he fell into the business of a garbage truck, has inherited the family catering business, which has fallen on hard times. Fuad scores a high-paying job catering a wedding reception for an upper-crust family, but as he's clearing out his grandfather's supply closet, he discovers a statue of the goddess Ishtar. Falling under her spell, crazed Faud begins knocking off the bridesmaids, who unwittingly find themselves becoming a vital part of the wedding banquet. Blood Feast 2: All U Can Eat also features a cameo appearance from John Waters, who has cited the original Blood Feast as one of his favorite films; Southern Culture on the Skids contribute to the musical score.
Critic Reviews for Blood Feast 2: All U Can Eat
Audience Reviews for Blood Feast 2: All U Can Eat
A new Herschell Gordon Lewis film?!?!?!?! What wonderful times we live in!!! First things first:I'm a huge fan of Herschell Gordon Lewis.He has a very sick sense of humour that just can't be beat.You can tell that he takes great joy in film making.It always looks like everyone is having a ball.You can nearly hear him yelling out in glee "More blood!" with a childlike gleam in his eyes. If this is your thing, you won't be let down by "Blood Feast 2". It's all I thought it would be and a lot more. Yes, the man's still got it...still doing things the drive-in way after all these years, lots of blood ,guts, and skin...oh, yea,and, it's funny as hell too. J.P. Delahoussaye is nearly as over the top as Mal Arnold was in the first one ,or Ray Sager in "The Wizard of Gore".The gore shots linger as Fuad almost affectionately fondles the goo.It's 100% pure Herschell Gordon Lewis directing at it's finest. From the godfather of gore, Herschell Gordon Lewis, comes the most eagerly awaited sequel in the blood red history of splatter cinema! The cannibal careterer is back with a new recipe for gross-out, comedic carnage that literally blows chunks across the silver screen! From the groundbreaking production team of H.G. Lewis and David Friedman, the manical masterminds responsible for Blood Feast, Two Thousand Maniacs! and Color Me Blood Red, Blood Feast 2 is a gorehound's wet dream!
Cassandra Maples
Super Reviewer
½
How can you not love the triumphant return of H.G. Lewis to film. This was definetly a great pleasure seeing how his last was a little below par for Lewis. This one is great and true blue Lewis.
Patrick Dolan
Super Reviewer
Blood Feast 2: All U Can Eat Quotes
There are no approved quotes yet for this movie.