Blood of Beasts (Beauty and the Beast)
(2010)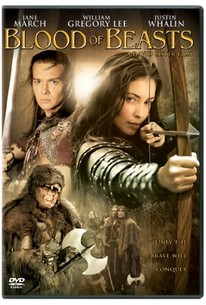 AUDIENCE SCORE
Critic Consensus: No consensus yet.
Movie Info
After several villagers are murdered, rumors spread about a vicious Beast lurking in the woods. But after the Beast saves Belle (Estella Warren), a wandering peasant girl, from being eaten by a wolf, she vows to help him stop the real villain a malevolent troll controlled by a power-hungry witch.
Critic Reviews for Blood of Beasts (Beauty and the Beast)
All Critics (2) | Fresh (0) | Rotten (2)
The sort of flick that the lovable old MST3K boys would have dismissed as "way too easy."
The DVD cover may lead you to believe that it is a cheap straight-to-video Lord of the Rings rip-off, but it is in fact a Beauty and the Beast rip-off . . .
Audience Reviews for Blood of Beasts (Beauty and the Beast)
Fractured fairy tale featuring a beast, a troll, and a witch. Estella Warren is eyecatching and one of the better models-turned-actresses, and the dramatic arc she shares with the Beast has its moments. Jane March is campy in a good way as the wicked witch, and old man Otto the sheriff is terrible in a mockable way. His first scene he looks like he's having either a heart attack or severe indigestion, has to be removed to his home, and then later has no after-effects. What was up with that then, some form of demented method acting?? Or was he really having a heart attack and they couldn't afford a reshoot? They throw in numerous bloody decapitations as a means of compensating for the several slow stretches. The CGI effects range from acceptable (the troll) to unintentionally funny (the Beast dodging the witch's lightning bolts.) As far as low-budget fantasy goes, at least they got what they paid for.
Doctor Strangeblog
Super Reviewer
JESUS CHRIST! I have seen Movies which were directed by David Lister, and they were NOT Bad, but I have never seen something worst like this. It should be a Violent Version of "Beauty and the Beast" though it looked so fake, I mean I thought I was watching some sort of "Home Made Movie" p.s. I dont know why they added Justin Whalin on the Actors list in the Movie, but he is NOT in the Movie.
Blood of Beasts (Beauty and the Beast) Quotes
There are no approved quotes yet for this movie.