The Brainiac
(1962)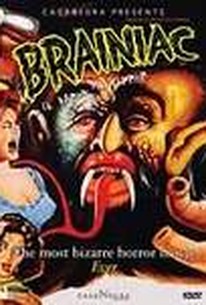 AUDIENCE SCORE
Critic Consensus: No consensus yet.
Movie Info
This outrageous Mexican horror gem opens in the 17th century, where Spanish Baron Vitelius is being sentenced to death for heresy, thanks to his reputation as a Casanova and practitioner of the black arts. Before his death, he curses the bloodlines of the Inquisitors -- a curse heralded by the appearance of a comet, which Vitelius declares will mark his vengeance when it passes again. Flash forward 300 years to the swinging '60s, where the comet does more than just appear in the sky -- it slams into the Earth, releasing a brain-sucking demon with a forked tongue, which then transforms into the shape of Vitelius. The Baron heads to town and immediately goes to work on the locals, inviting them to a party where he manages to identify and list the Inquisitors' descendants in order to plan his revenge. Seeking them out one by one, he sucks their brains dry with his spiked tongue, then burns their bodies. When the police eventually discover Vitelius' secret stash of human brains, they manage to track him down and destroy him before he claims his last victim. Despite laughably bad dubbing that turns every character into a complete moron, this is still a clever little no-budget film, filled with wild imagery and goofy monster effects (e.g. the demon's rubber head occasionally swells and deflates via air-hose). Released theatrically in Mexico, this film saw its American debut on television and soon became a late-night creature-feature favorite. ~ Cavett Binion, Rovi
Critic Reviews for The Brainiac
Audience Reviews for The Brainiac
This film starts with a sorceror on trial at the hands of the Spanish Inquisition for Heresy and Necromancy amongst other charges that are never fully explained. The inquisition seems to be getting more and more pissed off throughout the proceedings but the accused doesn't seem to give a fuck. He just kind of sits their giggling to himself. They then decide that the only thing to do with this man is burn him at the stake. While on fire he says very calmly that he will return in 300 hundred years and take vengeance upon his accusors descendents. Pretty impressive feat as he is on fire at this time. This imperviousness to fire and the unbearable pain that it entails, commands undivided respect for this magical nutjob. 300 years go by and he does indeed return, and one by one kills off all of his accusors descendents. But not before turning himself into a devil man demonoid each and every time which looks boss. This film was directed by Chano Urueta, the old guy from the Wild Bunch, by far my favourite western so I had to see this one as soon as possible. Not dissapointed at all. This film is immensely entertaining from start to finish. It has a good concept that is both cryptic and often times hilarious as well. This film isn't perfect but at only an hour and 15 minutes there really isn't any time to get bored. The performances are all over acted in true b-movie fashion, and the dub job is frankly awful, but that goes with the territory. Definently watch this if you like obscure b horror.
Ed Fucking Harris
Super Reviewer
½
A mysterious man with magical powers (which are never explained) is burnt alive by the Spanish Inquisition, then returns 300 years later to wreak his vengeance on the descendants of the celibate clergymen who condemned him. Fast moving Mexican silliness that's famous (and worth seeing) for the ridiculous (but kind of creepy) monster with the three foot long forked tongue.
The Brainiac Quotes
There are no approved quotes yet for this movie.