Buffy the Vampire Slayer
(1992)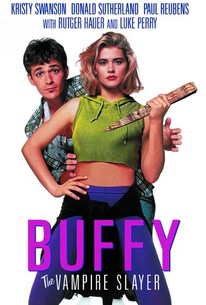 Buffy the Vampire Slayer Photos
Movie Info
In this hip horror comedy, a perky Valley Girl's life becomes like totally messed when she finds out that she is next in a long line of vampire slayers. To make it worse, the old dude who tells her of her destiny then tells her that a whole nest of vampires is living in LA and she is the only one who can stop them. Unfortunately, the two lead vampires have found her and are now proceeding to turn everyone in her high school into blood-suckers too.
People Who Like this movie also like
News & Interviews for Buffy the Vampire Slayer
Critic Reviews for Buffy the Vampire Slayer
Audience Reviews for Buffy the Vampire Slayer
It's amazing how we now have two interpretations of the same material and can look back at how phenomenal the TV show and awful the movie still are. BtVS the film covers the same material as the show about a popular, superficial cheerleader who is chosen to defend the world against vampires. But its attempts at tongue in cheek humour are way too forced. The vampires' make up and costumes are cringe-worthy bad. Even the sound is terrible as some scenes have a noticeable echo in the dialogue despite the characters being in a car with the windows rolled up. No actor seems connected to the material. It was clearly a paycheck for Donald Sutherland and Luke Perry where Kristy Swanson and her co-stars seem happy that they're in a movie. The themes of an ordinary girl changing under extraordinary circumstances or the metaphor of the vampires as symbolic of teenage anxieties are there but left unexplored. There is nothing good about the BtVS film and anyone curious about it should stay far away less it taint their perception of the TV series.
Edward Boxler
Super Reviewer
Have upped my original rating a star. This was actually a bad movie, but it is so kitschy and 90's I found I really quite enjoyed seeing it again. It is, of course, a silly little movie and best treated as nothing to do with the excellent tv series. Good fun, though.
Nicki Marie
Super Reviewer
Buffy the Vampire Slayer is an average horror comedy that is purely designed to be fun and entertaining. Though flawed, and not perfect, the film manages to be quite amusing. However the film is no where close to the TV series, which was darker, better executed and acted. Not saying that this film is bad, but this film has a lot of room for improvement. There are plenty of comedic moments here and there, and the cast are good, but not great. As far as a horror comedy is concerned, Buffy the Vampire Slayer works well enough to entertain, but leaves a lot to be desired. The film is lots of fun, and manages to be effective at being a good vampire flick; however the film is not as memorable as say, The Lost Boys or Fright Night. For what it is, Buffy the Vampire Slayer is a cool, little gem of a film, with nothing that's ever spectacular. But I will say this; this is definitely not a bad film. The film can easily be seen as a guilty pleasure, as it's not perfect, but it does manage to be amusing. I thought that Buffy the Vampire Slayer was a good film, nothing exceptionally great. In the end, this is a silly horror comedy that is fun, despite the fact that it's never anything remarkable. Buffy the Vampire Slayer is an entertaining but flawed film, and it's not as bad as everyone says it is. If you enjoy a mindless vampire comedy, this is a film to check out.
Buffy the Vampire Slayer Quotes
There are no approved quotes yet for this movie.