Cast a Deadly Spell
(1991)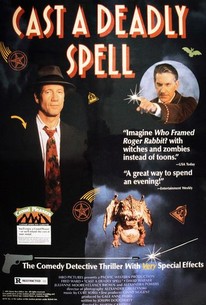 AUDIENCE SCORE
Critic Consensus: No consensus yet.
Movie Info
This clever and well-crafted production (produced for Home Box Office) goes the distance with its innovative concept, which is equal parts Raymond Chandler and H.P. Lovecraft. Taking place in 1948 Hollywood -- in an alternate reality where magic spells, curses and demons are commonly used and accepted -- the story revolves around hard-boiled gumshoe Harry P. Lovecraft (Fred Ward, looking nothing like his character's namesake and everything like Mike Hammer), the only detective in the business who relies on brains and instinct instead of gazing into a crystal ball or casting runes. This pure perspective is sought out by wealthy eccentric Amos Hackshaw (David Warner), who is trying to retrieve the legendary "Necronomicon" (a key component in the works of the real H.P. Lovecraft). The book is reputed to have the power to release the "Elder Gods" from their cosmic confines and return them to Earth, whereupon Hackshaw believes they will appoint him ruler of all mankind. The chief rival for possession of the book is a seedy gangster (Raymond O'Connor) whose favorite nightclub singer (Julianne Moore) takes a shine to Harry. Followed by a sequel, Witch Hunt, which applies a more sublime (if unnecessary) re-interpretation of the material, and features Dennis Hopper in the Lovecraft Role.
Critic Reviews for Cast a Deadly Spell
Audience Reviews for Cast a Deadly Spell
HOW DID I NOT KNOW THIS MOVIE EXISTED!?!?!?!? Directed by Martin Campbell (Golden Eye & Casino Royal), starring Fred Ward, Clancy Brown, Julianne Moore and David Warner. Cast a Deadly Spell is Lovecraft Noir, complete with hard boiled dialog, grizzled PI's, dirty cops, femme fatales, magic and monsters. Awesome awesome awesome.
Ken Stachnik
Super Reviewer
½
While the naming of our lead Howard Phillips Lovecraft was pointless and done purely for stunt reasons, as was the presence of the Old Ones during the climax, the majority of the film is actually a very clever, very watchable exercise in droll comedy and love of noir. This feels like something Clive Barker could have written and would have made a terrific early '90s tv series.
Zombies, vampires, werewolves, gremlins, drag queens. Add H.P. Lovecraft, the Necronomicon and a bit of magic and you've got yourself one odd film noir.
vieras esine
Super Reviewer
Cast a Deadly Spell Quotes
There are no approved quotes yet for this movie.