Dialogue avec mon jardinier (Conversations with My Gardener)
(2007)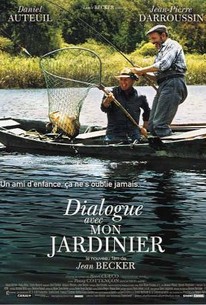 Dialogue avec mon jardinier (Conversations with My Gardener) Photos
Movie Info
Two men find themselves sharing a lifetime of experiences and observations over the course of a summer in this low-key comedy-drama from France. After the death of his mother, an artist (Daniel Auteuil) well known for his nature studies inherits his family's vacation house in the country. The artist notices that the house's once-impressive vegetable garden has fallen into neglect, and he hires a local gardener to put it back into shape. To his great surprise, the gardener (Jean-Pierre Darroussin) turns out to be an old friend from his school days, and as the gardener gets to work, he and the artist talk about where their lives have gone since they last saw one another. Over the next several months, the gardener and the painter chat about life, love, work, family, vegetables and anything else that crosses their minds as they casually pass along their life's stories and what they learned along the way under the warmth of the summer sun. Dialogue Avec Mon Jardinier (aka Conversations With My Gardener) was adapted from the memoirs of artist Henri Cueco. ~ Mark Deming, Rovi
Critic Reviews for Dialogue avec mon jardinier (Conversations with My Gardener)
Audience Reviews for Dialogue avec mon jardinier (Conversations with My Gardener)
½
This is a gentle film about two school friends who are reunited and spend a summer talking to each other about where their lives have gone. The film is driven by dialogue and is in many ways quintessentially French--a disillusioned French artist on the verge of divorce philosophizes about life with his gardener. On the surface it is as simple as a glass of wine on a Sunday afternoon. But somehow it sustains itself to explore a long-standing friendship.
Dialogue avec mon jardinier (Conversations with My Gardener) Quotes
There are no approved quotes yet for this movie.