Cop Land
(1997)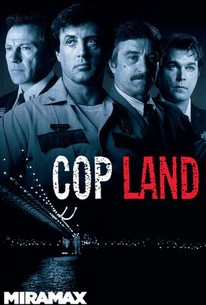 Movie Info
The second film from writer/director James Mangold, the corruption drama Cop Land stars Sylvester Stallone as Freddy Heflin, the much-denigrated sheriff of tiny Garrison, NJ, a community which -- thanks to a technicality -- is populated almost entirely by members of the New York City Police Department. When young cop Murray "Superboy" Babitch (Michael Rapaport) becomes embroiled in a controversial shoot-out which leaves two black youths dead, he apparently commits suicide rather than face the wrath of an official investigation. In reality, however, he flees to safety back home in Garrison. In the wake of the controversial events, NYPD Internal Affairs lieutenant Moe Tilden (Robert De Niro) arrives in Garrison to uncover the truth, attempting to enlist Freddy to help watch the watchmen, including Superboy's uncle, veteran cop Ray Donlan (Harvey Keitel); coked-out Gary Figgis (Ray Liotta); and Joey Randone (Peter Berg), the husband of the woman (Annabella Sciorra) Freddy loved and lost. A rich, complex film about redemption, Cop Land's portrayal of Freddy's struggles to prove his worth mirrors Stallone's own return to thoughtful, character-driven drama after years of vacuous action roles. Like Freddy, he faces an uphill battle, fighting for respectability in the face of a superb cast including Janeane Garofalo, Cathy Moriarty, and Paul Calderon. ~ Jason Ankeny, Rovi
People Who Like this movie also like
News & Interviews for Cop Land
Critic Reviews for Cop Land
Audience Reviews for Cop Land
½
"Being right is not a bullet proof vest, Freddy" The problem with Cop Land, is that it's full of cops. Well there is that, but in all seriousness, for any fan of the crime genre they will find there are two things that are unavoidable when looking over the cast of the film. One, is legendary director Martin Scorsese and the regulars that feature in his work: There is, of course, DeNiro and Keitel (who need no introduction) but there's also Liotta (Goodfellas), Cathy Moriarty (Raging Bull) and Frank Vincent who appears in both the latter two (as well as Casino). Vincent also brings me to the other unavoidable thing... the finest television series on the subject; The Sopranos. By my count, there's no less than ten cast members that are recognisable throughout six seasons and those well versed will notice; Carmela, Paulie, Arty Buco and Vincent's Phil Leotardo, among others. The New Jersey town of Garrison is populated by cops from the NYPD who have set up their own community to live in peace. As intended, it's a community that doesn't need policing but still employs local Sheriff, Freddy Heflin (Sylvester Stallone) to oversee things. Freddy always wanted to join the police force but was prevented from doing so because of a childhood accident that left him partially deaf. However, when Ray Donlan (Harvey Keitel) and his corrupt activities begin to surface it brings it to the attention of Internal Affairs Agent Moe Tilden (Robert DeNiro) who may just have the policeman's job opportunity that Freddy has coveted. Narratively, the film starts very strongly and draws you into the murky depths of police corruption and cops ruling cops. Director James Mangold also seems to know what he's doing; he builds the tension slowly and assuredly and introduces his characters at precise moments. It's not long before we realise Keitel is one of the shady one's and firmly in control of his environment. Stallone also happens to establish himself quickly by playing firmly against type. The whole premise of the film is built around Sly and the, seeming inability, to do the job he's been denominated for. It's quite a distance from most of his action-hero work but it's the supporting roles of a strung out Liotta and doggedly determined DeNiro that really bring shape to the whole corrupt debacle. All of the supporting players are brilliantly placed but it's, unsurprisingly, the aforementioned four actors that drive the film. Liotta, Keitel and DeNiro deliver the high calibre expected from them but the biggest surprise is Stallone. He's wise enough to sit back and let the heavyweights chew the scenery while he subtly underplays it and brings a touching vulnerability to his afflicted Sheriff. With an abundance of talent on display you might ask why Cop Land doesn't entirely work? Quite simply, it's a generic and formulaic story. The leads do what they can - and they all get their moment to shine - but the lack of three dimensional characterisation and some redundant plot strands only allow them to go so far. However, despite Mangold's inability to come up with a solid script, his handling of events and a who's-who cast are very diligently attuned. It's also worth noting that the denouement is impressively intense in a High-Noon homage with Mangold, very skilfully, utilising Freddie's hearing impairment to the utmost effect and manages to turn, what would normally be considered a Hollywood hokum get-out, into a refreshing and satisfying showdown. Alas, Cop Land is not the sum of it's parts. It had the potential to be a classic but ends up just another attempt at a genre that so many have covered to better results. That said, it's hard to argue with the cast and the solid performances but because it's easy to see the potential this film had, it makes it all the more frustrating that it doesn't quite achieve it. It's good, but it could've been great. As it goes, the problem with Cop Land is that it's not full of cops, the problem with Cop Land is that's it's full of quality actors working under restrained and clichéd material. Mark Walker
Mark Walker
Super Reviewer
One of James Mangold's earlier films, Cop Land displays a highly watchable raggedness (call it kitchen-sink realism, or call it spotty) that seems rather realistic but incorporates every "bad cop" movie cliche you can think of; tells a compelling story but paces it strangely; often over-explains but sometimes leaves you filling in blanks yourself, too; stands the test of time but still looks SO 90s; shows a plausible slice of life in which you root for the little guy, but anchors it to a lead character (Stallone) almost implausibly inert, rendering him hard to truly get behind. The camera work is bad, and the dialogue is by times worse, but there's a feeling to this movie that can't be discounted--a pain in Stallone's character that somehow shines through. It's not a great movie, but it's not awful either. Interesting early work from the director of Walk the Line and Girl, Interrupted--but also of Knight and Day--and one that I liked just a little bit more than I disliked.
Daniel Perry
Super Reviewer
½
Impressive action drama that has gotten an unfair reputation, Cop Land features an ensemble cast lead by Sylvester Stallone in one of his finest roles since the 80's. This a highly entertaining cop movie, and I must admit, I was skeptical about seeing it at first, but I was surprised at how good it turned out. There are parts in the film that good have been reworked, just make it a bit more fleshed out in terms of story. As it is, it's a good story, but it could have been done a bit better as well. Now, that doesn't make Cop Land a movie, but it does leave you wanting a highly memorable picture. Cop Land has an ambitious scope for a storyline, and it does work for the most part, but at times it doesn't unleash its full potential of what it could have been. Luckily the great cast of varied talent more than makes up for the films shortcomings and there is enough intrigue to keep you involved from start to finish. Director James Mangold directs this action drama, and he manages to pull something quite good here, and Cop Land is a film that though could have been better, isn't as bad as you might think. Overall, this is an entertaining thrill ride with a great cast, but like I said, at times it could have been better. Nonetheless, this is worth watching, and this film features of Sly's best performances. If you're looking for a well layered and engaging picture, Cop Land is a worthy film to watch. With a cast like this, it more than makes up for its few weak moments, and you can easily enjoy a feature film that has enough action, thrills and entertainment to keep you on the edge of seat till the very end.
Discussion Forum
Discuss Cop Land on our Movie forum!