Crazy as Hell
(2002)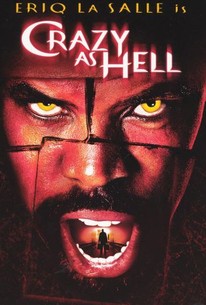 Movie Info
A psychiatrist confronts a new client whose problems may not be all in his head in this drama. Dr. Ty Adams (Michael Beach) is a well-known psychiatrist who has earned no small amount of controversy for his blunt and "anti-medicinal" approach to treatment. Adams is also dealing with some emotional problems of his own after the death of his wife and child. Parker (John C. McGinley), a documentary filmmaker, has arrived at the hospital where Adams works to make a movie about his work, just in time for Adams to start working with a new patient -- a mysterious and angry fellow known only as "The Man" -- who insists he is Satan (Eriq LaSalle). The new patient is not easily convinced that he's delusional, and as he becomes a greater disruptive force, Adams can't help but wonder if maybe the stranger is telling the truth. Crazy as Hell was directed by actor Eriq LaSalle, who plays the new patient and is best known for his work on the television series E.R.; it was his first theatrical feature, after helming the made-for-cable Rebound.
Rating:
R (for some strong sexual content, violent images and language)
Genre:
, ,
Directed By:
Written By:
In Theaters:
On DVD:
Runtime:
Studio:
Critic Reviews for Crazy as Hell
Audience Reviews for Crazy as Hell
½
really good acting, but toward the end the movie began to fall a little short, it did not go for it as much as the film previousely had. and Eriq La salle was made his character come alive. The film make you think and gives you chills all at once.
Jessica Harris
½
A mediocre near-clone of Moctezuma's far superior "The Mansion of Madness" with a bit of ham-fisted theology thrown in for good measure, "Crazy as Hell" shows a good deal of promise early on but quickly becomes predictable, formulaic and a bit dull. It reaches for a Twilight Zone sort of twist at the end, but by the time we get there we've seen it coming from about a half hour into the film. The acting is passable and Sinbad, playing a pesky orderly, is suitably annoying, but it's a long trip to an all-too familiar destination featuring a couple of cut-outs as main characters. Eriq La Salle does have a couple of interesting moments as a man who truly believes himself to be Satan, but they're too few and far between to keep the film compelling. Not horrible, just not all that interesting. Comparisons to movies like "In the Mouth of Madness" are definitely a stretch.
Brian Seitzman
A horrible splice between K-PAX and One Flew Over the Cuckoo's Nest, but with the devil. Poorly acted, abrupt in its scences, closer to a related series of sketches on MADTv than a movie, and why was Sinbad in this?
Ian Powell
Crazy as Hell Quotes
There are no approved quotes yet for this movie.