Daddy's Home 2
(2017)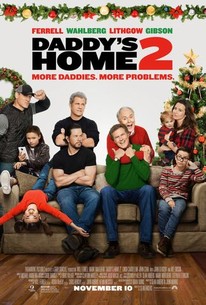 TOMATOMETER
AUDIENCE SCORE
Critic Consensus: A formulaic comedy that's unlikely to spread much yuletide merriment, Daddy's Home 2 can only muster a few stray yuks from its talented cast.
Movie Info
Dusty (Mark Wahlberg) and Brad (Will Ferrell) have joined forces to provide their kids with the perfect Christmas. Their newfound partnership is put to the test when Dusty's old-school, macho Dad (Mel Gibson) and Brad's ultra-affectionate and emotional Dad (John Lithgow) arrive just in time to throw the holiday into complete chaos.
News & Interviews for Daddy's Home 2
Critic Reviews for Daddy's Home 2
Audience Reviews for Daddy's Home 2
Maybe it was the infectious energy of the packed theater or that my brother, as my movie companion, was having a great time, that I actually found Daddy's Home 2 shockingly tolerable. It is not hilarious or well-written for the most part but the fun it is to see Will Ferrell and John Lithgow together makes one forget the many, many flaws. One of them is Mel Gibson who looks like he is despising every minute being onscreen, and his delivery diminishes any attempts at humor. The film is a simple holiday lark, actually sharper and more story driven than the first Daddy's Home. Not a must see, but a solid Netflixable trifle. Rating: 57
Daddy's Home 2 is funny. What more could you expect?
Jason Cenzano
Super Reviewer
½
I will admit, and not necessarily begrudgingly, that I didn't mind 2015's Daddy's Home. One might even say I liked it to a certain extent. Did I understand why stars Will Ferrell and Mark Wahlberg were reuniting with something that was a more standard studio comedy rather than following up their 2010 Adam McKay film, The Other Guys, despite the fact it was likely because that film only made $170 million worldwide on a budget of $100 million? No, despite that evidence I still didn't and yet, somehow, Daddy's Home was something I laughed at consistently enough and had a warm enough time with that I was more than happy to recommend it to those looking for a light watch on a weekend afternoon. This was undoubtedly all it was ever meant to be. That was, until that second Ferrell/Wahlberg collaboration ended up going bonkers and making over $240 million worldwide on a production budget of only $69 million and thus is the reason we now have a Daddy's Home 2 that cost just a little more ($31 million more to be exact) with the addition of granddaddies Mel Gibson and John Lithgow present to up the antics of Ferrell's Brad and Wahlberg's Dusty as they try to co-dad in peace. Paramount was also keen to release this sequel prior to the holiday season as a whole thus kind of inadvertently kicking it off itself (Bad Moms Christmas obviously helping with this as well) as the studio looks to capitalize on their family-friendly PG-13 comedy playing through the Thanksgiving break and having collected all it needs prior to Star Wars coming in and claiming all the screens. That said, is this strategic approach going to work? Does Daddy's Home 2 offer the same comforts as its predecessor without succumbing to the stupidity that first film was always on the verge of flirting with or without becoming a carbon copy of that initial film? For the most part, sure. Daddy's Home 2 ups the antics in the way that sequels do without being maybe as consistently funny as it should be given the talent on hand. All things considered though, Daddy's Home 2 does further the story of the scenario set-up in the first film in natural and organic ways while adhering to the wacky tone that first film defiantly established. We are introduced to more family members in order to spice up the proceedings and from keeping it from becoming that total retread of the original while the dynamics of such relationships are explored and caveats of others revealed to add layers to characters we might have imagined we already knew everything about. That isn't to say writer/director Sean Anders (Sex Drive, Horrible Bosses 2) and writing partner John Morris (Hot Tub Time Machine, We're the Millers) have delved into the anxieties of blended families and come up with a film that analyzes the dynamics and struggles of such situations-this is very much of a movie world where no one has any problems except the ones in their personal life as created by their personal life with money being no object-but there is something to be said for Daddy's Home 2 as it doesn't simply rest on the laurels of its predecessor when it very easily could have. read the whole review at www.reviewsfromabed.com
Philip Price
Super Reviewer
Daddy's Home 2 Quotes
There are no approved quotes yet for this movie.
Discussion Forum
Discuss Daddy's Home 2 on our Movie forum!