Death in the Garden (La Mort en ce jardin)
(1956)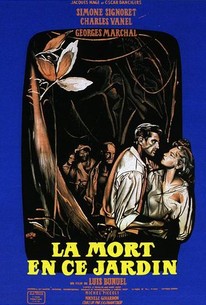 Movie Info
To those confused by the seemingly nonexistent titles Gina and Evil Eden in the manifest of director Luis Bunuel, we will attempt to clarify: Both of these titles are alternate names for Bunuel's 1956 Diamond Hunters, a French/Mexican production originally released as La Mort en ce Jardin in France and La Muerte est En Jardin in Mexico. Both titles can be literally translated as Death in the Garden--which is yet another alternate title for this modest little escapade. The film is one of the most accessible and linear of the director's works: it is an austere tale of refugees from various oppressive societies who seek the means to escape. All of the principals converge in an idyllic South American rain forest, only to succumb to greed while hunting for a diamond mine. The fact that tragedy lurks within the forest explains the title Evil Eden, while the presence of Simone Signoret explains the title Gina. ~ Hal Erickson, Rovi
Rating:
NR
Genre:
, ,
Directed By:
In Theaters:
On DVD:
Runtime:
Studio:
Sutton Pictures
Critic Reviews for Death in the Garden (La Mort en ce jardin)
Audience Reviews for Death in the Garden (La Mort en ce jardin)
surrealists master bunnel tries a commerical pic with signoret as a ho that doesn't do much business but every scene she is in a different faboulous costume!
Greg Wood
½
There was some "lost classic" hype buzzing around "Death in the Garden," when the film was belatedly released on DVD last year. Sorry to say, the hoopla is not earned. I had a harder time sitting through this than any other Luis Bunuel film I've seen, and I've seen most of his less appreciated works. And people try to compare this with "Aguirre, Wrath of God"? The heart of the plot is a small, eclectic band of people tramping through the jungle, trying to escape a South American village governed by a corrupt police force. The group includes a priest (Michel Piccoli, in his first of seven Bunuel pictures), a prostitute (Simone Signoret), a macho outsider (Georges Marchal), a deaf girl and her cook father. The main problem is that the film takes about 50 minutes to arrive at this point. Before that, the story just wanders around the village, establishing characters and the fundamental conflict: a riot brewing after the police seize the diamond mine that provides everyone's livelihood. There is one notable flash of perversity, however: Marchal's character, Shark, enters the film by casually flipping his middle finger at the troops. A somewhat shocking inclusion, by 1956 standards. Once the central characters are on the run, the story becomes a bit more interesting. The fugitives turn punchy with exhaustion and hunger, and a more primal clash of personalities emerges. Signoret has promised herself to the cook, but only because of the money he has stockpiled to open a restaurant. But she has second thoughts, and starts feeling drawn toward Marchal instead. Piccoli tries to be a calming presence, but is predictably ineffectual (this is a Luis Bunuel film, after all). The five hope to sail away to Brazil, but their internal tensions may become more of an obstacle than the police pursuing them. All this sounds much more compelling than it is. It's one of Bunuel's earliest color projects, and plenty of gun action helps cover the incongruity of a Spanish director making a French-language film about South America. And there are two subversive insertions which can't be missed: a memorable image of a large snake being swarmed by fire ants (Bunuel always loves his insects!) and a strange, delirious anecdote from Piccoli about an old seminary classmate who liked to eat soft-boiled eggs. But the first half's tedium can't be overcome and, in the end, "Death in the Garden" doesn't feel like much more than a second-rate adventure movie.
Eric Broome
Super Reviewer
½
It's "The Exterminating Angel" with a jungle setting, with characters being pray to their surrounds and revealing their real personalities to the audience an to each other. The colour cinematography is quite striking, especially when you have a very blonde and very dangerous Simone Signoret in red lisptick.
Matheus Carvalho
Super Reviewer
Death in the Garden (La Mort en ce jardin) Quotes
There are no approved quotes yet for this movie.