Diagnosis: Death
(2009)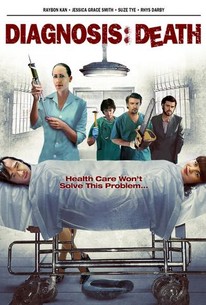 AUDIENCE SCORE
Critic Consensus: No consensus yet.
Movie Info
Tongan Ninja director Jason Stutter takes the helm for this supernatural horror comedy concerning a group of human guinea pigs who subject themselves to a series of medical tests, only to discover that the hospital where the experiments are being conducted is haunted. Diagnosed with cancer, flippant English teacher Andre Chang (Raybon Kan) decides that he's got nothing to lose, and agrees to take part in an experimental drug trial. As the testing gets underway, Andre connects with pretty cancer patient Juliet Reid (Jessica Grace Smith), who's convinced that the hospital is in fact a converted insane asylum where her favorite author perished under mysterious circumstances. Over the course of the 48-hour test, Andre and Juliet experience what can only be described as a series of unsettling supernatural encounters. Are their disturbing visions a simple side effect of the experimental drug that's been administered to them, or are these corridors home to something that isn't quite human? Bret McKenzie, Rhys Darby, and Jemaine Clement co-star. ~ Jason Buchanan, Rovi
Critic Reviews for Diagnosis: Death
There are no critic reviews yet for Diagnosis: Death. Keep checking Rotten Tomatoes for updates!
Audience Reviews for Diagnosis: Death
½
When you see the cover of this(my copy anyway) and you see "As funny as Shaun of the Dead. More horrific than Severance" and then look at the back and see that it "has nods to Peter Jacksons early films", you get excited, expecting a hilarious yet scary and very gory horror with a strong story at its centre so its a bit disappointing when you get an occassionally funny film with just a few jumps, a few gory moments and an ok but nothing special story! Its not bad, 2 people who have not long to live are brought together at a drug trial in a hospital where a murder happened but theres been some dodgy cover ups. This has its moments and Jessica Grace Smith is a sexy lady and the 3 main guys from the brilliant Flight of the Choncords are in this so if you like that, check this out. If your a horror fan though, this is passable but nothing great.
Diagnosis Death is a good little film to watch when theres nothing else good on TV or you have nothing else better to do. The film from New Zealand is supposed to be a horror comedy, but it plays more liike a B movie, which is what it is. I took a chance with this film and quite liked the idea behind the film. I thought the plot was interesting and the acting decent enough for a film of this caliber. Obviously not excellent, but still good enough to keep you interested. For those interested, the film features a cameo appearance by Flight Of The Conchordes cast members Bret Mckenzie and Rhy Darby. Even if Diagnosis Death is a fair entry in the genre, there is plenty of room for improvement. They were a few things that bugged me, one of the things was that the film felt low budget. Don't get me wrong, there are a lot of low budget films that are terrific, and don't seem like small budgeted films. But this one looks the part, and I personally feel that there could have been more effort to cover up how cheap it looks. I believe though that just because you got a crap budget, you don't necessarily have to make a shitty looking picture. I mean look at Halloween, a budget of less than half a million and it looked great. Rob Zombie's The Devil's Rejects 5 million dollar budget, the film looked well made, didn't look cheap. Duncan Jones' Moon a 5 million picture and it looked like a 100 million dollar film. Diagnosis Death is good and has a terrific idea, but the filmmakers seem to struggle a bit with their ideas and their budget and it makes the film suffer a bit. They couldn't get the most out of the film and I feel they took a few shortcuts to get it made. Which is quite sad because when one makes a film, it should be treated with respect and if it's got an interesting idea they should do everything to make the film look great and attractive to the audience. The filmmakers shouldn't take the cheap way out, they should take the time to craft a quality picture. Diagnosis Death is a good film, but at times it feels rushed, and it feels as if it was more of a chore than a labor of love to the filmmakers. Made by someone, I'm sure Diagnosis Death would've better than it really is. A film with potential, not realized to it's fullest of its abilities.
Diagnosis: Death Quotes
There are no approved quotes yet for this movie.
Discussion Forum
Discuss Diagnosis: Death on our Movie forum!