Doll Graveyard
(2005)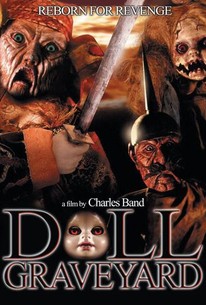 AUDIENCE SCORE
Critic Consensus: No consensus yet.
Movie Info
Schlock producer Charles Band is back in killer doll country once again with this tale of century-old possessed dolls out for revenge against crummy teenagers that wish their masters ill will. When young Guy Filbrook (Jared Kusnitz) moves into a new house with his family, little does he know what evil memories haunt the grounds on which he sleeps. One hundred years earlier, a young girl died under questionable circumstances and was buried in the backyard next to a group of dolls that her abusive father ordered her to bury. When Guy unknowingly unearths the gruesome play-toys, they soon become his only refuge after a group of teenaged jerks begin to harass the lonely boy. Soon Guy's soul is miraculously replaced by the dead girl's, who then breathes life into the dolls in a fit of revenge that will soon claim the lives of the boy's tormentors as well as threaten the life of his sister and her friends, who just so happen to be having a sleepover at their house the night of the massacre. ~ Jeremy Wheeler, Rovi
Critic Reviews for Doll Graveyard
All Critics (2) | Fresh (1) | Rotten (1) | DVD (1)
For fans of Full Moon, Doll Graveyard is a nice throwback to earlier killer doll films from Charles Band.
They don't have to be masterworks, but honestly: a 62-minute movie is not what the genre fans are looking for.
Audience Reviews for Doll Graveyard
This is probably one of Bands best films to date although not exactly an original concept, but its pretty well made and directed coming across as a sensible thriller. Again we have killer dolls on the loose but much like 'Puppet Master' they do look really good and have clearly been well designed with a lot of care and attention. I especially liked the samurai and German dolls. Its very very predictable with nothing new to bring to the forum. Put simply if you like these types of horrors then you will certainly enjoy this. By now Band is pretty much an expert at shooting model dolls so this is good stuff, not just trashy cheap visuals as in the early years. Just don't go expecting top class acting or thrills or any originality, nice film title though.
Phil Hubbs
Super Reviewer
Beyond average. Even though it whiffed of Doll Master rip-off I gave it a chance because I don't automatically think that B-movies equal rubbish. Well, though the basic idea is the same as The Doll Master the plot is very different. And still I say, so what? The doll designs are quite cool, but one or two look a bit modern for at least a 1911 manufacturer. The samurai and the broken faced doll were really quite impressive looking but the animation let them down a bit. Most of the characters were pretty 2D, though as most of them were the popular crowd I guess they could well have been made intentionally vacuous. I found the flashback/prologue pretty pointless except to give the ending some grounding. Personally I would've preferred some explanation as to how Sophia came by the dolls to have been included. The jump to a spirit explanation was a bit too rushed as well; the suggestion came almost out of the blue and all other characters accepted it without question. Of course, you'd probably be ready to believe anything if you're being attacked by dolls that move by themselves, and it does remove the usual annoying emphatic denying you get in horror films, but to me it felt a little forced. Verdict: A for effort, but even for a B movie the finished product's a bit too shaky for me.
I can't recall a single thing that happened in it. Not good.
Brandon Klaus
Super Reviewer
Doll Graveyard Quotes
There are no approved quotes yet for this movie.