Dracula: Prince of Darkness
(1966)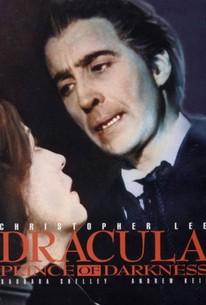 Dracula: Prince of Darkness Photos
Movie Info
Hammer's second outing for the notorious vampire after their hugely successful Dracula (1958), with Christopher Lee returning as the demonic Count. Here he is revived by a devoted servant using the blood of an unwary guest and so begins his reign of terror once more.
Critic Reviews for Dracula: Prince of Darkness
Audience Reviews for Dracula: Prince of Darkness
½
'Dracula: Prince of Darkness' opens with an iris-shaped recap of the previous film and this is arguably the most fearsome, canny and opulently mounted of the two. Deep in the Carpathian Mountains, remnants of vampirism are being exterminated at an exponential rate and a young, matronly woman on a wooden gurney is brought to a pyre to be staked in order to end the bloodthirsty curse. In his sophisticated, doom-laden manner, Fisher is commenting on the fervent mentality of religious superstition and he mythologizes Carlsbad into a den of iniquity. Like Godot, Dracula's presence overshadows the grim first-half where he is spoken about long before his reappearance. Once Lee is resurrected around the 50-minute mark, he is a churlish host to his dinner guests and aside from some guttural hisses, he doesn't speak any baronial dialogue. Similar to a roving panther, Lee is animalistic and Machiavellian. Although Peter Cushing's Van Helsing is truant from his continuation, his absence doesn't dwindle the pulse-pounding effect. James Bernard's symphonic score is noteworthy and the gliding shots through the castle's corridors enkindle the slow-burn intensity inch by inch. The ritualistic blood-draining scene is pretty risqué for the era and the stop-motion, misty revival in Dracula's crypt is flawless. This is the regal watermark for which Hammer Studios measures their output.
Cory Taylor
Super Reviewer
Dracula-Prince of Darkness isn't a bad movie about the world's most famous vampire, but its definitely not the greatest either. Having Terence Fisher in the director's chair is definitely a plus, but the story's kind of weak. The ritual by which Dracula is resurrected was probably the highlight but unfortunately it took its sweet time happening 45 minutes in. Lee does an always-superb job as Dracula and Andrew Kier was great as the badass cleric. Barbara Shelley's subtle foxiness was wasted on a whiney role and how Dracula is... stopped this time was kind of weak. Not the best Dracula movie ever, but not the worst either...
Michael Gildea
Super Reviewer
Dracula (Christopher Lee) rides again in yet another Hammer entry in the Dracula franchise. This film is enjoyable horror hokum, but it has an awfully shallow story, fleshed out with a slow opening stretch and some amusing vampire lore in between the sporadic vampire attacks. Four British travellers are journeying through the Carpathian Alps in the 1800s. They are repeatedly cautioned to steer clear of Carlsbad Castle but, being typically stuffy and stubborn, they end up going there anyway. The castle is deserted apart from a rather zombified manservant. During the night, one of the travellers is slain by the manservant, and his blood is used to resurrect the long-dead Count Dracula. Time for another bout of blood-sucking mayhem.... Christopher Lee has a small role this time around, but gets across a good performance due to his commanding presence in the title role. Andrew Keir is also good as a priest-cum-vampire-slayer, though he has to overcome some dumb dialogue. The slow build-up is rather damaging, as it generates more tedium than chills. The opportunities for real terror are somewhat fudged too, since most would-be "shock" moments are telegraphed too far in advance. However, Hammer buffs and vampire addicts will doubtless feel more than satisfied.
Cassandra Maples
Super Reviewer
Dracula: Prince of Darkness Quotes
There are no approved quotes yet for this movie.