Duel to the Death
(1982)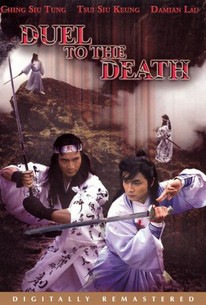 AUDIENCE SCORE
Critic Consensus: No consensus yet.
Movie Info
A martial arts competition in a long-ago period in China pits Chinese masters against Japanese ninja (in one scene, they fly down attached to giant kites). One of the ninjas is good at deception and helps his teammates to come out on top through treachery. The catch is that the one who will be the ultimate winner fights a duel to the death, using all the powers at his disposal. Even a female martial arts expert gets to take part in this Olympian contest.
Critic Reviews for Duel to the Death
Audience Reviews for Duel to the Death
The best minds in Chinese action cinema of the late 70s and early 80s created this very fun kung fu movie that has plenty of cheesy effects but remains solidly entertaining.
John Ballantine
Super Reviewer
Chinese Shaolin monk and Japanese samurai warriror battle it out in this confusing (at first) and pretty silly in places story set in the MIng dynasty. The pace is all over the place, like a car on a cold morning, but luckily, every time it threatens to stall, in come a bunch of exploding ninjas to the rescue.
Rad-tastic and fun as hell old school wuxia that goes straight to the point. Typicall plot about secret papers, your usual tournament or the like and what not. It's still a fun ride from beginning to end, never getting dull and with some of the most creative and delirious sword fight sequences that has been put into film. Heck, even with all the sillyness going around, the main focus of the story is quite well told, showing the motivations of the two main characters in a very convincing way. You will go for the ninjas, but you will stay for the story...and the ninjas.
Tsubaki Sanjuro
Super Reviewer
Duel to the Death Quotes
There are no approved quotes yet for this movie.