Empire of Passion (Ai no borei) (In the Realm of Passion)
(1978)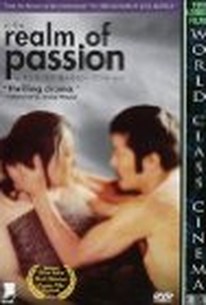 Empire of Passion (Ai no borei) (In the Realm of Passion) Photos
Movie Info
Also known as Phantom Love, the French/Japanese co-production L'Empire de la Passion follows famed Japanese director Nagisa Oshima's multinational production, the chilling and erotic In the Realm of the Senses, which was banned in several countries and was disqualified from appearing at the Cannes Film Festival. This straightforward Japanese murder-mystery and ghost story, unlike that previous movie, does not focus on eroticism but concerns the aftermath of passion and the fruits of crime. In the story, based on an 1895 incident in rural Japan, Seki (Kazuko Yoshiyuki), a beautiful peasant woman, and her young lover Toyoji (Tatsuya Fuji), conspire to murder her husband when their erotic games get out of hand. After getting the husband drunk, the two lovers kill him and throw his body down an abandoned well, claiming that he has gone to do business in Tokyo. In order to avoid suspicion, the two only see each other seldom. In the meantime, Seki begins seeing visions of her husband, and her grown stepdaughter has dreams of him. Guilt consumes both of them, and their nemesis, in the form of a bumbling police inspector sent to investigate an unrelated murder, pursues them. ~ Clarke Fountain, Rovi
Audience Reviews for Empire of Passion (Ai no borei) (In the Realm of Passion)
"In the Realm of Passion" is somewhat of a sheep in wolf's clothing. Titled to suggest a sequel to the controversial "In the Realm of the Senses," "Passion" has little of the daring frankness which Nagisa Oshima fans might crave. Until some unsettling violence in the conclusion finally inserts some shock value, this is a surprisingly traditional ghost story. Really, it's not far from something Akira Kurosawa might have directed -- though Kurosawa's version would have a better score and more eloquent use of smoke and snow.The setting is a small Japanese village in 1895. Seki is married to Gisaburo, a rickshaw driver who works long hours. She begins an affair with Toyoji, a dashing, much younger man. After her lover -- a fan of giving oral sex -- urges her to shave her groin and then performs the deed himself (none of these scenes are explicit), he declares Gisaburo must be murdered because he'll otherwise see the shorn area and develop suspicions. After getting him drunk, Seki and Toyoji strangle him and dump his body down a derelict well.The two hardly benefit from the crime, since they still have to hide their affair from the neighbors. And soon enough, Gisaburo's eerie ghost begins materializing. He is very much a Shakespearean apparition -- the character simply adds reddened eyes and a ghoulishly painted face, and then solemnly enters scenes to remind the living of their guilt. (A howling village idiot with hidden understanding also seems archetypal of the genre, while another familiar persona -- a daughter with clairvoyant dreams -- is frustratingly underused.)Once snide mutterings increase amongst the villagers and an inspector begins prying into Gisaburo's disappearance, we know Seki and Toyoji are doomed. She wrestles with remorse, while he succumbs to an unconscious ritual not unlike Lady Macbeth's tortured hand-washing. Strangely, the film supplies a perfect resolution to their agony with about 10 minutes to go, then backs off and attaches a much less poetic end.The imagery is visually lovely -- the costumes, quaint dwellings and nature scenes are full of rich, earthy color. It's just that much of the film seems a bit conservative, coming from a director whose earlier work could be so raw and brutal.
Eric Broome
Super Reviewer
½
a noirish folktale with horror elements, much less explicit than it's notorious companion piece, in the realm of the senses. beautiful cinematography, especially the snow scenes. the story owes alot to the various postman incarnations. if i may say so, the rape scene almost put me off the film. it seems more misogynist than anything in realm of the senses
Stella Dallas
Super Reviewer
½
Can we have some sensible reviews of this film, please. An average star-rating of 3 is ridiculous for this near-masterpiece. "Empire of Passion" is a loose companion piece to Nagisa Oshima's notorious "In the Realm of the Senses". Though Tatsuya Fuji plays the male lead once more, and the story again concerns a couple driven to violence by their obsessive lust, "Empire of Passion" is less intense than the earlier film and its tone is much lighter, allowing for a healthy dose of comedy. Set in late 19th century rural Japan, it's a ghost story about a rickshaw puller, murdered by his wife and her lover, who returns from the dead and haunts his killers to the point of self-incrimination. Whereas "In the Realm of the Senses" was mostly set indoors, this exquisitely photographed film is opened out into the beautiful countryside, the passage of time mapped by the changing seasons. Curiously the frequent softcore sex scenes feel gratuitous and exploitative in a way that their hardcore equivalent in "...Senses" never did, and it's for this reason I've deducted a half-star.
Empire of Passion (Ai no borei) (In the Realm of Passion) Quotes
There are no approved quotes yet for this movie.