Ender's Game
(2013)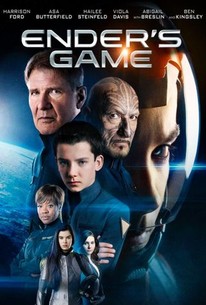 TOMATOMETER
AUDIENCE SCORE
Critic Consensus: If it isn't quite as thought-provoking as the book, Ender's Game still manages to offer a commendable number of well-acted, solidly written sci-fi thrills.
Movie Info
In the near future, a hostile alien race (called the Formics) have attacked Earth. If not for the legendary heroics of International Fleet Commander Mazer Rackham (Ben Kingsley), all would have been lost. In preparation for the next attack, the highly esteemed Colonel Hyrum Graff (Harrison Ford) and the International Military are training only the best young children to find the future Mazer. Ender Wiggin (Asa Butterfield), a shy, but strategically brilliant boy is pulled out of his school to join the elite. Arriving at Battle School, Ender quickly and easily masters increasingly difficult war games, distinguishing himself and winning respect amongst his peers. Ender is soon ordained by Graff as the military's next great hope, resulting in his promotion to Command School. Once there, he's trained by Mazer Rackham, himself, to lead his fellow soldiers into an epic battle that will determine the future of Earth and save the human race. Based on the best-selling, award winning novel, ENDER'S GAME is an epic adventure which stars Asa Butterfield, Hailee Steinfeld, Ben Kingsley, Viola Davis, with Abigail Breslin and Harrison Ford. -- (C) Summit
Rating:
PG-13 (for some violence, sci-fi action and thematic material)
Genre:
,
Directed By:
Written By:
In Theaters:
On DVD:
Runtime:
Studio:
News & Interviews for Ender's Game
Critic Reviews for Ender's Game
Audience Reviews for Ender's Game
This is not a game. Good Movie! Despite all the odds, Ender's Game winds up as a very good movie that just barely misses on being a great one. Perhaps the films biggest strength is its production design, the technical team did an outstanding job of bringing the environments of the battle school to life, the zero gravity combat scenes being some of the films biggest highlights. It's not all perfect however, there is a little problem with some of the heavy exposition dumps in the film. Plus a couple of the actors (most notably Viola Davis) seem lost and don't know what kind of movie they're supposed to be doing. The biggest problem with Ender's Game is the incredibly fast pace, which isn't an immediate issue, but a lot of story and character development suffers. Overall though, this film was worth the long gestation period. It delivers more than we had a right to expect. Orson Scott Card may be homophobic but the powerful message at the heart of this film says much more than the average Hollywood film is capable of delivering. The Earth was ravaged by the Formics, an alien race seemingly determined to destroy humanity. Seventy years later, the people of Earth remain banded together to prevent their own annihilation from this technologically superior alien species. Ender Wiggin, a quiet but brilliant boy, may become the savior of the human race. He is separated from his beloved sister and his terrifying brother and brought to battle school in orbit around earth. He will be tested and honed into an empathetic killer who begins to despise what he does as he learns to fight in hopes of saving Earth and his family.
Meaningless with little thought to bigger issues. Really not acted or executed well. I'd prefer watching a rerun of Star Wars. Also, the fact that the story was written by the anti-equality NOM man Card makes the film unworthy of the time of fair-minded audiences.
Christian C
Super Reviewer
½
A great story with great cast but such a waste since the execution didn't turn out to be a perfect one.. Given a wonderful cast such as Asa Butterfield, Hailee Steinfeld, Abigail Breslin, Harrison Ford, Viola Davis, and Sir Ben Kingsley and all you can make is a decent movie?? Well there's definitely something wrong here.. For the story itself, I think they could write a better script since the ending quite disappointing for me.. Overall, it's still a nice movie to be watched with family and it's quite entertaining, but too bad it could have been a great one..
Sanjaya 丘耀文
Super Reviewer
Discussion Forum
Discuss Ender's Game on our Movie forum!