Essential Killing
(2010)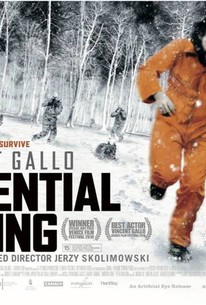 Movie Info
A soldier must fight for his own survival as well as the cause of his people in this powerful drama from acclaimed Polish filmmaker Jerzy Skolimowski. A pair of American security operatives (Zach Cohen and Iftach Ofir) are on patrol in Afghanistan when they stumble upon a Taliban fighter (Vincent Gallo), who kills them despite his terror and nervousness. While trying to escape, the Afghan is captured by American forces; he's tortured during interrogation, but doesn't tell the Americans anything, in part because an explosion has made it difficult for him to hear what they're saying. The Americans ship the Afghan off to a detention facility with a number of other Taliban soldiers, but upon arrival he's able to escape. However, the Afghan finds himself in a forbidding snowbound climate, and with no provisions or warm clothing he struggles to simply survive as he avoids his pursuers and struggles to find some way to get home. Shot with very little dialogue (and almost none delivered by leading man Gallo), Essential Killing received its North American premiere at the 2010 Toronto International Film Festival. ~ Mark Deming, Rovi
Critic Reviews for Essential Killing
Audience Reviews for Essential Killing
½
The meditative, subversive and provocative thriller, "Essential Killing," is about the hunt for a suspected terrorist(Vincent Gallo), told almost entirely from his point of view. Except like in real life and the movie, things are not so simple. We first see him in a cave, trembling before killing two American contractors(Zach Cohen & Iftach Ophir) and their escort, who are there off-book and quite possibly involved in drug smuggling, in order to escape. Soon after this, he is captured and processed at an airbase and cleaned up. He is shouted at by an American officer(David Price) and might answer if not for all the ringing in his ears from the explosion. All of which resembles a production line more than anything else.(This is not the only time the movie references "Brave New World" by the way.) Since the waterboarding produces no results, he is shipped with others to Poland. In any case, this makes for a poor first impression. His escape into the snowy wilderness occurs when the army convoy comes across a literal pack of road hogs, causing the truck he is in to go over the side of the road and overturning. At which point, the conflict becomes less man vs. man than man vs. nature, as the former prisoner makes a bid to live off the land like the hunters and fishermen he sees with one extreme example thrown in for good measure.(Considering how much he seems to know about the flora, it would probably come as no surprise that he has done some hunting himself.) At the same time, we get glimpses of a past, happier existence.
½
Sometimes visually striking, virtually dialogue free piece with some memorable moments and a committed, if over-egged, performance from Vincent Gallo. The symbolism becomes wearying however, and Jerry Skolimowski doesn't have the even hand of Gus Van Sant's "Gerry" or Terrence Malick's "The Thin Red Line", which explore similar themes.
Daniel Parsons
Super Reviewer
Even if not original and proving to be a wearing experience, this visceral film deserves credit for being almost without dialogue - and Gallo does a good job as a desperate man struggling for survival in an inhospitable place, while the locations highlight well his isolation.
Carlos Magalhães
Super Reviewer
Essential Killing Quotes
There are no approved quotes yet for this movie.