Eyes of a Stranger
(1981)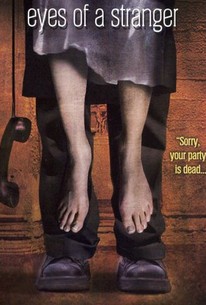 AUDIENCE SCORE
Critic Consensus: No consensus yet.
Movie Info
In this slasher film, Lauren Tewes stars as a TV anchorwoman whose deaf, dumb and blind teen sister (Jennifer Jason Leigh) is the next target of a killer.
Critic Reviews for Eyes of a Stranger
All Critics (4) | Fresh (3) | Rotten (1)
Like many an early-1980s slasher flick, it's so politically incorrect and sleazy that it's actually a shock to watch it in the enlightened times we live in today.
Audience Reviews for Eyes of a Stranger
This one seemed like it was made for TV, but I'm sure it never made TV here in the US because of the very graphic nude scenes. The theme of this story has been played over 100 times, either that I've seen this movie with a 100 different actors. The beautiful Jennifer Jason Leigh plays Tracy, who can't see or talk because she was abused as a child and her sister a news reporter is taking care of her now in her adult life. Her sister Lauren Tewes plays a news reporter who is tracking down a killer / rapist. Of course the killer ends up in there apartment and right before he rapes and kills again Tracy can see and speak. This had to be the bottom of the bucket for these two. 1 star is all I can dish out, though I have to give Jennifer Jason Leigh a 5 on beauty alone. This was my dream of a girl back in 1981.
Bruce Bruce
Super Reviewer
A rapist/killer stalks Miami women as a reporter realizes that the suspect lives in her apartment complex. In her first major role, Jennifer Jason Leigh plays a blind/deaf/dumb young girl in a bit part that serves to be the only worthwhile aspect of this poor film. It is a fairly basic slasher film with all the elements that make this genre one of the most misogynistic genres of film. When Jane says, "Tracy is not the only defenseless woman in this city," I couldn't help but think of this line as the film's thesis. I understand that two women ultimately resist the male killer, but this comes only after numerous women scream in horror and are subject to the "Gaze." Here, women are objects, not acting subjects. Overall, for anyone looking to explore feminist film theory, Eyes of a Stranger is the perfect film to write against.
Jim Hunter
Super Reviewer
This is a typical slasher/thriller kind of movie with a serial killer and someone, in this case a reporter, who is trying to catch them and/or prove that they're the killer. None of the actors really give stand out performances, and there aren't many special effects in the movie either. It's more of a thriller than a horror movie. Overall, it's okay, not good but not bad.
Eyes of a Stranger Quotes
There are no approved quotes yet for this movie.