The Farmer's Daughter
(1947)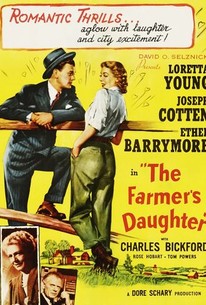 Movie Info
When Loretta Young stepped up to accept her Academy Award for The Farmer's Daughter, the ever-youthful leading lady, who'd been in films since 1928, sighed "At long last!" Young is cast as Katie Holstrum, an independently-minded Swedish girl who leaves her family's Minnesota farm to take a domestic job at the Washington DC home of congressman Glenn Morley Joseph Cotten. Katie's outspokeness and Scandanavian common sense immediately endears her to Morley, his mother Ethel Barrymore, and the family's crusty-but-kindly butler Clancy Charles Bickford. Sensing that the political machine backing Morley isn't thoroughly honest, Katie takes an active hand in Washington politics, leading to her own nomination for a congressional seat. The machine-boss villains (depicted rather provocatively as right-wing reactionaries) try to discredit Katie on the eve of the election, but she is rescued by Morley, who of course has fallen in love with her. Adapted from +Juurakon Hulda (+Hulda, Daughter of Parliament), a Finnish play written by Hella Wuolijoki (using the pen name Juhani Tervapää), which had originally been optioned as a potential vehicle for Ingrid Bergman, The Farmer's Daughter later matriculated into a weekly TV series, with Inger Stevens as Katie and William Windom as Morley.
Critic Reviews for The Farmer's Daughter
Audience Reviews for The Farmer's Daughter
Loretta Young won her Academy Award in this well made, nuanced (originally Finnish) scenario of a plain spoken country gal who delivers common hardworking sense to the conceited, know-everything swells in the big city (sorta like a female version of Mr. Deeds Goes To Town). The frosting is thick on this cake but its still pretty good and its ladled out by a entire cast of totally recognisable character regulars. Like many old school visits to the dreamtime along with the realisation that this dreamworld never existed is the somewhat charming wish "that wouldn't it great if it did though?"
Kevin M. Williams
Super Reviewer
Cute if slightly silly movie that would likely be critically panned today. Despite the loss of innocence in the post war period, this still depicts a world that displayed innocence in film..
John Ballantine
Super Reviewer
The Farmer's Daughter Quotes
There are no approved quotes yet for this movie.