Figures in a Landscape
(1971)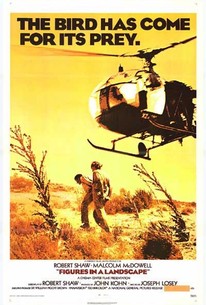 AUDIENCE SCORE
Critic Consensus: No consensus yet.
Figures in a Landscape Photos
Movie Info
Based on a novel by Barry England, Joseph Losey's Figures in a Landscape stars Robert Shaw and Malcolm McDowell as two escaped prisoners in an unidentified totalitarian country. MacConnachie (Shaw) and Ansell (McDowell) spend most of their time on the run from an omnipresent police helicopter. Along the way, the two men are helped by "the people," who are as contemptuous of the powers that be as MacConnachie and Ansell. $Pamela Brown} co-stars as an enigmatic widow. ~ Hal Erickson, Rovi
Critic Reviews for Figures in a Landscape
Audience Reviews for Figures in a Landscape
½
"Figures in a Landscape" is an unusual, intriguing film with cult appeal on a number of levels (another quirky Joseph Losey project, Malcolm McDowell in a role *between* "If..." and "A Clockwork Orange," the star Robert Shaw also writing the screenplay, the arty plot, etc.). The story's structure is daringly minimalist, and bears some theoretical resemblance to Steven Spielberg's landmark "Duel," which came out a year later. Shaw and McDowell are fugitives on the run (escaped P.O.W.'s?) in dry, brush-choked mountains which suggest South America -- except no location is ever mentioned. Shaw is the hardened, worldwise brute and McDowell is the insecure innocent, but the personality gap between them narrows as the hours pass. Multiple other actors appear as troops and villagers, but no one has a legitimate line of dialogue except the two leads. The third important character is an ominous black helicopter, which persistently pops up to chase and taunt the two escapees. The pilots' faces are never shown. There is some gunplay, but the cat-and-mouse game between Shaw, McDowell and the helicopter dominates the action. Delirious talk of Shaw's absent wife eventually adds a splash of backstory, but the ending is bound to leave many viewers frustrated about how few questions are answered. However, this mystery is clearly intentional. Tinnitus sufferers may be soothed by the ambient drone of copter blades, gunfire and/or pouring rain -- for better or worse, the sound mix seems fiendishly determined to avoid silence.
Eric Broome
Super Reviewer
Figures in a Landscape Quotes
There are no approved quotes yet for this movie.