Fists in His Pocket (I pugni in tasca)
(1968)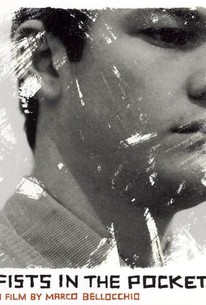 Fists in His Pocket (I pugni in tasca) Photos
Movie Info
This bizarre drama chronicles the strange activities of a family of mad epileptics and their blind mother, and of the terrible effects they have on the one healthy member of their clan, Mase. The young man really wants to get married, but he refuses to put his wife in the midst of his strange, tumultuous clan. His younger brother, Castel, understands his plight. To free his older brother, Castel decides to kill the rest of the family. Then Mase can have the inheritance and marry. After the killings, Castel retires to his room. As he listens to a series of operatic arias he has a severe seizure. The only one left to help him is Pitagora who refuses to assist.
Critic Reviews for Fists in His Pocket (I pugni in tasca)
Audience Reviews for Fists in His Pocket (I pugni in tasca)
½
Very interesting film. Quirky, yet chilling and at times very intense. At first you feel that Alessandro is only trying to help his older brother (the most "stable" fammily member) out and free him from his burdensome family obligations, but as the film progresses it becomes less clear as to what his motive is. Lou Castel does a wondeful job at keeping you guessing. Ultimately a very sad (but interesting) look at what has to be one of the MOST dysfunctional familes ever put to film.
½
This film is a selection from the Criterion Collection, Spine No #333. Like all movies in the Criterion Collection it is far from what is seen on the big screen in America. If you enjoy films that are somewhat different then I recommend that you venture in to this collection of over 400 plus films from some of the greatest directors in the world. This is about a young man who has seizures and has a sister, a mother who is blind, and a brother who is also handicapped, He wants to take the burden off his normal brother so he starts eliminating family members one by one. A 3 1/2 star performance.
Bruce Bruce
Super Reviewer
½
What an awesome and twisted debut film!!! Dark, subversive, and a scathing indictment of bourgeois family values. Family dynamics don't become more dysfunctional than this. Lou Castel's performance as the anti-hero is unforgettable. The camera-work in this film dramaticlly diverges from neo-realism, forging a new language in Itailian cinema.
Stefanie C
Super Reviewer
Fists in His Pocket (I pugni in tasca) Quotes
There are no approved quotes yet for this movie.