Le Couteau dans la plaie (Five Miles to Midnight)
(1962)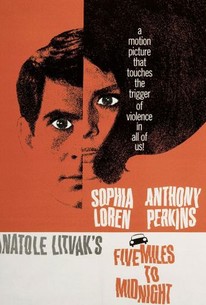 Le Couteau dans la plaie (Five Miles to Midnight) Photos
Movie Info
Just a few years after Psycho made him an internationally known actor, Anthony Perkins starred with Sophia Loren in this suspense drama about a mismatched husband and wife, Bob and Lisa. When they first met in Italy, Lisa was an impoverished young woman and Bob was an American GI who looked like he was going somewhere. Now that the couple has settled down in Paris, Lisa has a steady job but Bob cannot seem to last very long in any employment whatsoever. Just as Lisa bids him good-bye at the airport, on his way to yet another job possibility, she lets him know that she is leaving him. Well, the plane crashes and Bob manages to get away intact without anyone knowing it. He shows up back home and convinces Lisa to collect on his life insurance -- and that is when everything starts to go downhill on a bobsled.
Critic Reviews for Le Couteau dans la plaie (Five Miles to Midnight)
Audience Reviews for Le Couteau dans la plaie (Five Miles to Midnight)
Solid suspenser with a some surprises along the way.
½
I was pleasantly surprised by this movie, it stars two of my favourite actors, and the story is really cool. It's dramatic, suspenseful, and exciting, but also funny. I highly recommend it.
Mismatched pair Loren and Perkins are not only mismatched as cast for this film but mismatched in their marriage. Black and white early 60's film. Still, a better movie than anything made after the year 2000. Sophia Loren in her finest is made to act with limp, unromantic and anti-romantic Anthony Perkins, decidely the most love lost pair on the planet. Perkins is just about as weird and robot like a character it gets. Set in Paris... A pushy, neurotic American (Anthony Perkins) convinces his terrified wife (Sophia Loren) to do a scam to collect his $120,000 life insurance when it's assumed that he has been killed in a plane crash. But there's a catch, of course... Cast Jean-Pierre Aumont Sophia Loren Anthony Perkins Gig Young Crew Cinematographer: Henri Alekan Director: Anatole Litvak Producer: Anatole Litvak Composer: Mikis Theodorakis Screenplay: Peter Viertel Producer: Louis Wipf Screenplay: Hugh Wheeler
monsieur rick
Le Couteau dans la plaie (Five Miles to Midnight) Quotes
There are no approved quotes yet for this movie.
Discussion Forum
Discuss Le Couteau dans la plaie (Five Miles to Midnight) on our Movie forum!