Frágiles (Fragile)
(2005)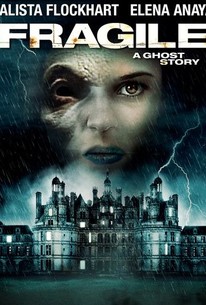 AUDIENCE SCORE
Critic Consensus: No consensus yet.
Frágiles (Fragile) Photos
Movie Info
A malevolent supernatural force besets a dilapidated children's hospital on the Isle of Man, terrifying the young patients and breaking their bones in this supernatural thriller from Spanish horror specialist Jaume Balagueró (The Nameless, [REC]). Mercy Falls Hospital has been in operation for nearly a hundred years, but now the authorities have declared it unfit for human inhabitation. As a result, the time has come for the hospital to close. But just as the helicopters arrive to transport the children to a new facility, bad weather forces them to remain grounded. Later, as Nurse Amy (Calista Flockhart) tends to her young charges, the children's bones begin to fracture for no apparent reason. Though the doctors remain baffled by the inexplicable injuries, the children sense something that the grown-ups do not. Somewhere in these crumbling corridors lurks a force of darkness consumed by pain, and filled with hatred. The children have dubbed it "The Mechanical Girl," and they claim to have stolen glimpses of it sobbing in the shadows. In order to banish the spirit and save the children, one brave soul will have to summon the courage to face a force powerful enough to cause physical damage, yet so fragile it might be completely destroyed by the slightest touch.
Critic Reviews for Frágiles (Fragile)
There are no critic reviews yet for Frágiles (Fragile). Keep checking Rotten Tomatoes for updates!
Audience Reviews for Frágiles (Fragile)
½
It's nice to stumble on a decent, under the radar horror movie now and again. Fragile isn't amazing, but it did surprise me with how watchable and well-made it is. Calista Flockhart stars as a nurse recently arrived at Mercy Falls Hospital, which is almost 100 years old and full of history. The hospital is about to be closed, though, and as the inhabitants of the children's ward are leaving unexplainable, malevolent events are beginning to occur. One of the children speaks of seeing a "mechanical girl", and the mystery of that ghostly apparition may be the key to it all. Fragile is more creepy than frightening, but it kept my interest throughout. There's a bit of a mystery woven within it that matches well with the atmosphere the movie cultivates, and even a bit of a twist to keep things from being entirely predictable. There's some occasional over-acting from the numerous child actors (which is understandable), as well as some from Flockhart and Elena Anaya (which is less so), but that's all I can really complain about. I liked Fragile. It takes the time to establish mood and characters while managing to never teeter into boredom. If you're in the mood for a solid ghost story, you could do much, much worse.
Not actually Calista Flockart Fan but I think she did a nice work in this Movie.
Quick Review:- Boring. Long Review:- Boring and not very scary.
Stuart Brooks
Super Reviewer
Frágiles (Fragile) Quotes
| | |
| --- | --- |
| Maggie: | You know what I think? A princess needs a kiss to be saved--a love kiss. |
| | |
| --- | --- |
| Maggie: | I told you. She's angry. |
| | |
| --- | --- |
| Maggie: | Charlotte...she's a mechanical girl....she lives on the second floor. |
| Maggie: | Charlotte... she's a mechanical girl... she lives on the second floor. |
| | |
| --- | --- |
| Helen: | He broke his leg the other night. |
| Amy: | How did that happen? |
| Helen: | That's the question. |