Fun
(1994)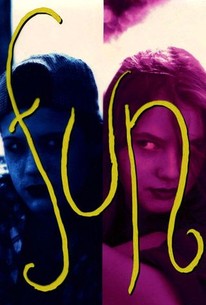 Movie Info
Bonnie (Alicia Witt) and Hillary (Renee Humphrey) are two seemingly average California teenagers who have some very heavy emotional baggage to lug around. Bonnie was abandoned by her mother years ago, and Hillary was sexually assaulted by her father, who is now behind bars. Bonnie and Hillary have enough in common that they strike up a fast friendship and head out one day in search of "fun." However, by the end of the day, their pursuit of happiness has taken them from typically meanspirited teenage pranks, such as dropping pennies onto cars from an overpass, to an abrupt and shocking extreme -- the murder of an elderly woman who has done them no harm. Jane (Leslie Hope), a social worker assigned to work with Bonnie and Hillary, finds it all but impossible to get through to them and is dealing with her own precarious emotional state (which she treats with alcohol), while tabloid journalist John (William R. Moses) tries to wring a juicy, sensational story out of the girls' crime spree. Meanwhile, Bonnie and Hillary wonder out loud about their sudden "celebrity" and who will play them in the inevitable TV movie about their crimes. Alicia Witt and Renee Humphrey both won awards for their performances at the 1994 Sundance Film Festival, though the film didn't find a distributor until 1996, after the release of the thematically similar Heavenly Creatures.
Critic Reviews for Fun
All Critics (10) | Top Critics (1) | Fresh (8) | Rotten (2)
The subject matter, alienation of two girls who kill for fun, is significant, and the film is well acted, especially by Alicia Witt, but the director's approach and visual style are incoherent
The murder is one of the most upsetting things I've ever seen in a film, and I've seen it all.
Witt is so natural it's hard to believe her lines were scripted
January 1, 2000
Audience Reviews for Fun
Heavenly Creatures meets Natural Born Killers in this story of two misfits who cement their unnaturally close bond with an act of murder. Well-acted, but the script seems familiar and the direction is show-offishly busy.
Dean McKenna
Super Reviewer
½
A superb film. Two girls, Hillary and Bonnie become best friends for a day, and go on spree of fun - ending up with the murder of a nice old lady. This is intercut with black and white footage of them in a juvenile detention centre, being interviewed by a reporter and a psychologist. It really gets in depth with the girl's personalities. Hard to watch the murder scenes. Quite interesting how lost these girls are in their fun.
Lafe Fredbjornson
Super Reviewer
½
I bought this blind on VHS a few years ago as a fan of Alicia Witt. This is a superior, superbly acted and interestingly shot teen flick, and kind of works as a companion piece to "Thirteen". Ignore the dodgy DVD cover art and give it a go - most online stores sell it for under 10 bucks so how can you go wrong?
Daniel Parsons
Super Reviewer
Fun Quotes
There are no approved quotes yet for this movie.