Funeral Parade of Roses
(1970)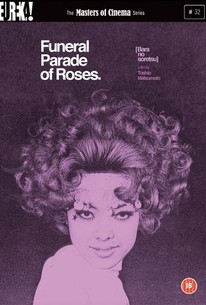 Movie Info
This violent dramatic bloodbath concerns a love triangle in a gay bar in Tokyo. Eddie (Peter) and the transvestite Leda (Osamu Ogasawara) both have sexual designs on bar manager and drug dealer Gonda (Yoshio Tsuchiya). Gonda fears Leda will expose him to the police if he does not give in to his/her advances. When Leda commits suicide, Eddie and Gonda are free to engage in their homosexual yearnings for each other. When Gonda discovers he is Eddie's father, he kills himself with a knife. A distraught Eddie then uses the same knife to cut his own eyes out. ~ Dan Pavlides, Rovi
Cast
Critic Reviews for Funeral Parade of Roses
Audience Reviews for Funeral Parade of Roses
"Funeral Parade of Roses" has extra notoriety because its use of depraved, sped-up footage apparently inspired a similar "A Clockwork Orange" sex scene. But if this is your reason for seeing the movie, don't bother. You won't find the resemblance too striking. This Japanese film is not easy to watch, but its radical style will be familiar to Nagisa Oshima fans. Director Toshio Matsumoto throws in every jagged, disorienting trick he can manage, including jump cuts, flashbacks, captions, repeated scenes, dialogue with cartoon bubbles, an avant-garde score (murky variations on the children's song "Did You Ever See a Lassie?"), shots of the camera crew, bizarre inserted imagery (a flower stuck in a nude man's behind is a particular favorite) and cast interviews. Even the film's title is perversely withheld until 18 minutes have passed. There is not much story -- what's more important is the experimental filmmaking and the prominence of real-life transvestites. The homosexual love-triangle plot finds drag queens Eddie and Leda (both first-time actors) competing for the affections of club-owner Gonda (Yoshio Tsuchiya). The charismatic, unusually "attractive" Eddie is also nagged by traumatic childhood memories. But most of the screen time just depicts incidental behavior such as sex play, dancing, fighting, marijuana use, political protest and carousing in bars. This lack of narrative momentum can be wearying, but the shocking climax is a significant compensation.
Eric Broome
Super Reviewer
On my first day in Los Angeles I ended up at a small independent cinema called The Cinefamily, and by sheer luck I managed to get in. It just so happened to be the opening night of the 4K restoration of Toshio Matsumoto's highly transgressive and influential "Funeral Parade of Roses". It was a fantastic experience, not the least because of this community's fervor for such a lost gem of arthouse/experimental film. Set in the Tokyo underground, the film concerns several transvestite prostitutes, primary among them one named Eddie. We follow their love lives and drug lives with occasional pauses for cinema verite styled interviews centered around their perspectives on sexuality and culture. Jarring editing, strobe cuts, provocative and disturbing imagery, and frequent fourth wall breaking keep you on your toes all throughout the viewing. In terms of influence, the plot is very loosely adapted from Oedipus Rex, and it paved the way for movies like Park Chan-Wook's "Oldboy" and Gaspar Noe's "I Stand Alone". Stanley Kubrick was directly inspired by the fast-motion action sequences and utilized the same technique in "A Clockwork Orange", complete with whimsical organ music. In fact there's even a few phantom ride shots that just had to be an inspiration for many iconic sequences in Kubrick's 70s output. The meticulous level of restoration by Cinelicious is readily apparent, and it is wonderful to see this level of passion put into preserving such a critical piece of cinematic history. "Funeral Parade of Roses" is disturbing as it is hilarious, and now it is essential viewing for cinephiles due to its impending Blu-Ray release.
K Nife Churchkey
Super Reviewer
What if writing novelties of say...Proust or Xingjian were to be translated as a neon mural of experimental musical compositions...add some Oedipal symbols,disjointed time-frames,oh..and vertical motives of multi-sexuality! There you have it,a "blow-up" of docu-confession,Matsumoto's personal ode to youth,highlighting an era of wine and roses (or if you like: opium and proses)
Dimitris Springer
Super Reviewer
Funeral Parade of Roses Quotes
There are no approved quotes yet for this movie.