Gardens of the Night
(2008)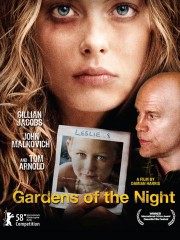 Gardens of the Night Trailers & Photos
Movie Info
Abducted by two men and forced into child prostitution when she was just eight years old, a homeless San Diego street teen is finally reunited with her family only to find that the traumas of the past may have scarred her for life. Leslie (Ryan Simpkins) was walking to school when her neighbors Alex (Tom Arnold) and Frank (Kevin Zegers) pulled up alongside her and asked for help finding their missing dog. After scouring the neighborhood with the young girl to no avail, the men offer Leslie a ride so she won't be late for school. Along the way, the men tell Leslie that they work for her father. After school, Leslie is surprised to find the two men waiting to drive her home. Claiming that her parents have been called away on urgent business, Alex and Frank coerce Leslie into the car and give her a drink. Later, after dozing off in the backseat, Leslie awakens in a tiny bedroom with eight-year-old Donnie. Like Leslie, Donnie has been drugged and kidnapped. Donnie is led to believe that his parents have sold him for drugs, while Leslie is told that her parents want nothing to do with her anymore. Now, as the two innocent children are forced into prostitution, they use their imaginations to escape into a wondrous world of light where anything is possible.Years later, Leslie and Donnie are struggling to rebuild their lives on the streets of San Diego. Donnie is deeply in love with Leslie, but Leslie's perception of love has been completely destroyed by her harrowing experience. One day, Leslie walks into a children's shelter and begins the painful process of reconnecting with the past. Though she is soon reunited with her parents, everything is different now, and it gradually becomes apparent that any hope she had for a normal life evaporated the fateful day she placed her trust in two monstrous strangers. ~ Jason Buchanan, Rovi
more
| | |
| --- | --- |
| Rating: | R (for disturbing content involving sexual exploitation of a child, language, sexual content and some drug use) |
| Genre: | Drama |
| Directed By: | Damian Harris |
| Written By: | Damian Harris |
| In Theaters: | Nov 7, 2008 Wide |
| On DVD: | Mar 24, 2009 |
| Runtime: | |
Cast
News & Interviews for Gardens of the Night
Critic Reviews for Gardens of the Night
Audience Reviews for Gardens of the Night
Randy Tippy
Super Reviewer
½
Gardens of the Night follows an 8 year old upper-middle class girl, Leslie (Ryan Simpkin), who was abducted by two Pedophiles, Alex (Tom Arnold) and Frank (Kevin Zegers). After being coerced to getting in Alex's car, her whole childhood life turned out to be a living hell, alongside with Donnie (Jermaine Scooter Smith), who believed that his parents sold him to Alex for drugs. They create a connection with each other later on in the movie and promised to be together forever. Now that they are teenagers (played by Gillian Jacobs and Evan Ross), they moved to San Diego together, homeless, leading to drugs and prostitution.

Based on what was shown here, Gardens of the Night is a depressing but good movie that will make parents wanting to take care of their kids and look out for them. I didn't want to see it on Netflix at first because the summary felt depressing to read, and I didn't want to waste my time feeling sad. I'm an opened person, so I was like "what the heck. I should give it a chance." Glad I did. There are many kids out there who goes through messed up situation like this. It wasn't a perfect film, but this will hopefuly get prevent kids from not having a messed up life like those two main characters. No matter if it's a wealthy or a dangerous area, there are sickos everywhere we go.

The storyline started out ambiguously. It showed how she was abducted from her parents, and it showed Alex and Frank's motives. Some of the scenes are uncomfortable to look at because they can make you feel tense and self-conscious, but that depends on what type of person you are. Some of the scenes also find yourself feeling a little bit happy, whenever Leslie and Donnie interact with each other. You can really tell they have a strong bond together, especially when Donnie is attracted to her.

The problem about this movie was that it left out a few questions to be answered, such as the part where it cuts from the part where Leslie and Donnie were sleeping as kids to where they slept at a beach in San Diego as teenagers. I was puzzled by that because I didn't know what happened before they moved in San Diego without having a house of their own, or what happened to Alex and Frank. It really messed up the movie for me. The ending was another problem I had as well. It left me open for more to come, and I didn't know what to feel. Either happy or sad. Maybe it was trying to lead itself somewhere, but it wanted us to figure out ourselves on what happened next after it cuts to the credits.

The cast, although there are no stand outs, did a good job here. Tom Arnold departed from his usual comedic roles and did something new for a change. He played his character pretty well. Kevin Zegers came a long way throughout his career, and I didn't expect him to do a role like this. He wasn't too bad here, and I'm wondering why he hasn't been in any blockbuster movies, lately. It doesn't matter, anyway. Evan Ross and Gillian Jacobs had a good chemistry together on screen. They played their part pretty well. Other cast delivered a decent performance that will be admired by everyone in the future.

Gardens of the Night is an independent film that is a refreshment from the junk Hollywood is putting out. There are mixed reactions by critics and audiences alike, but I thought it was well-made but not perfect. So it's a both direction for me. I enjoyed it, but there are few things that were missing. It would have been a perfect movie if they did a little better with the story. This deals with Abduction and making the right decisions for yourself, and I hope people will learn something from this movie. It's not flawless, but it's worth looking at, if you're a parent or someone who loves kids so much, that you would do anything to prevent them from taking the wrong path.
MIFF '08: I liked the characters, and it had some pretty strong themes about family, but I left the cinema feeling unsatisfied. The first half kept me interested because it was ambiguous as to what was going to happen to the children, but then it skipped ahead to when they were older, and I was thinking, "Well, how did they escape? What happened to Alex and Frank?" So basically, the film makers omitted what would have been the most interesting part of the story. It was also a little predictable that the traumatic childhood of Leslie and Donnie led to a life of prostitution. And because so much time was spent showing their street life, the ending felt rushed - a shame because it was only then that I began to understand what this film was actually about. Sigh.
Discussion Forum
Discuss Gardens of the Night on our Movie forum!
News & Features