Halloween - The Curse of Michael Myers (Halloween 6)
(1995)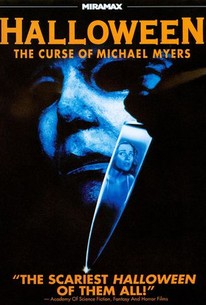 Halloween - The Curse of Michael Myers (Halloween 6) Photos
Movie Info
Picking up six years after the events of Halloween 5: The Revenge of Michael Myers, this competently produced but ultimately disappointing sequel attempts to tie up the uneven horror series' loose ends with a less-than-convincing resolution. This installment opens with Jamie Lloyd (J.C. Brandy), young niece of supernatural psycho-killer Michael Myers, giving birth on an altar amid a mysterious Druid ceremony. Before she is killed by her monstrous uncle, Jamie manages to leave her baby in the care of young Tommy Doyle (Paul Rudd), who has pursued a lifelong obsession with the horrific Myers family legacy in the town of Haddonfield, IL. Living with members of the Strode family, Tommy comes to suspect that one of them, little Danny Strode (Devin Gardner), is cursed with the same malevolent power that drove Michael to murder several members of his family. When Michael arrives in Haddonfield to find and destroy Jamie's baby, Tommy joins forces with Dr. Sam Loomis (Donald Pleasence), Michael's ex-psychiatrist and a life-long crusader against his sinister former patient, to find the connection between Michael and the Man in Black and end the curse once and for all. Released shortly after Pleasence's death, this confusing, horribly edited blend of tired slasher clichés and X-Files-inspired subplots is a poor testament to the long career of the distinguished and compelling character actor. ~ Cavett Binion, Rovi
People Who Like this movie also like
News & Interviews for Halloween - The Curse of Michael Myers (Halloween 6)
Critic Reviews for Halloween - The Curse of Michael Myers (Halloween 6)
Audience Reviews for Halloween - The Curse of Michael Myers (Halloween 6)
The problem with the Halloween series that I have is that they tried to make things more important than they really were. When they started trying to come up with an explanation of what Michael Myers is it fails on all levels and makes things less intriguing. What makes the character interesting is its simplicity and not the complexity, and that's ultimately what happened with the series in general. Halloween 6: The Curse of Michael Myers continues on with the "Curse of Thorn" backstory mechanic that's just as ineffective as making Jamie Lee Curtis Michael Myers' sister in Halloween II. The film does have a little bit to it as a horror film I guess, but overall it's just a tired entry in a series that has long overstayed its welcome.
Tim Salmons
Super Reviewer
½
Halloween: The Curse of The Curse of Michael Myers is in my book, the third worst film of the Halloween franchise. At times the film doesn't even make sense, and it's all over the place. The result is a mess. However, for some reason, I did find this one to be decent enough to watch. However, the film does lack the power the power of previous Halloween films. Many Halloween and Horror fans have said that the producer's cut of the film is better because it feature the cut scenes integrated in that cut of the film. I have yet to see that cut of the film, but for this version, it lacked the style and power and minimal suspense. But it is better than the third installment. Some of the performances here are questionable. What's very interesting about this film is the casting of Paul Rudd, who would later go on to star in popular comedy films. The film as a whole has a very dark atmosphere, almost too dark. You can't even see what's going on, on-screen. The kills are obscured, and you're left in trying to figure out what is going on on-screen. But if you can make out what's happening, then you can kind of enjoy this film. I have yet to check out the producers cut of this film, and by what I hear it is the definitive version of this picture. The Curse of Michael Myers is a decent film, but is also a mess of a film. The film has potential, but is never really fulfilled due in part to this films checkered history. Halloween fans know what I'm talking about.
½
John Strode: Enough of this Michael Myers bullshit! "Terror Never Rests In Peace." Well said John Strode, well said. Halloween 6: The Curse of Michael Myers is the first completely unwatchable film in the series. I still dislike number 3 more, but not by a whole lot. It's just a generic slasher that is holding on to the greatness of the first one, while trying to squeeze every dollar possible out of a dead series. I've heard good things about H2O, so it should be interesting watching that one after two really bad Halloween's in a row. There are a couple points of interest in this one though. One is the Paul Rudd getting his start, as many actors do, in a slasher. He's horrible in this movie, but it was still interesting seeing him get his start. The other point of interest the horribly done father bitch slaps daughter scene. It was so bad that it had me laughing. There's not much else to say about this. It's bad; it's really bad.
Melvin White
Super Reviewer
Halloween - The Curse of Michael Myers (Halloween 6) Quotes
| | |
| --- | --- |
| Barry Simms: | I bet she wears crotchless panties and barks like a dog. |
| | |
| --- | --- |
| Dr. Sam Loomis: | I have a little business to attend to here. |
| | |
| --- | --- |
| Kara Strode: | (on the phone) - Beth look out there's someone in the room, he's right behind you! |
| Kara Strode: | (on the phone) Beth look out there's someone in the room, he's right behind you! |
| | |
| --- | --- |
| Kara Strode: | (to her father) - I see only one bastard in this house! |
| Kara Strode: | (to her father) I see only one bastard in this house! |