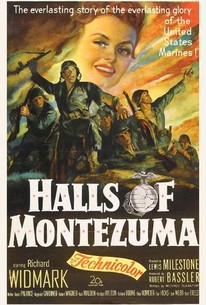 Halls of Montezuma
1950, War, 1h 53m
8 Reviews
1,000+ Ratings
Where to watch
Rent/buy
Rent/buy
Rent/buy
Rate And Review
Halls of Montezuma Photos
Movie Info
Lieutenant Carl Anderson (Richard Widmark) is a former teacher who leads a band of Marines to an island under Japanese control during World War II, intending to capture enemy soldiers and gain information. When a Japanese soldier reveals a cave where his forces are willing to surrender, the Marines arrive there, only to be ambushed and suffer grave casualties. Now Anderson, having lost much of his original team, must summon up enough courage to attack an important rocket base.
Audience Reviews for Halls of Montezuma
Halls of Montezuma is one of the classic war films. Brilliantly acted and directed, this is a must see movie for War film enthusiasts. Director Lewis Milestone crafts a near flawless film that delivers effective thrills. I thought that the film had a well written script that elevated the film's plot. The action sequences were elaborate and exciting. This is a very good film to watch when you have nothing else better to watch, and it is a genre classic despite its flaws. The acting here is quite impressive, and considering that this was made in the 1950's, the film looks good and offers viewers a taste of the chaos of the Pacific Theatre of combat. I personally enjoyed the film and thought it was a among the best War film that I've seen. Halls of Montezuma is not the greatest war film ever made, but it is nonetheless a standout feature worth seeing. The cast itself are wonderful, and they elevate the film's prestige significantly. If you happen to catch this one on TV, by all means watch it. The film is entertaining from start to finish, and it is one of the earlier attempts to capture the chaos of the Second World War on film. If you love these types of films, then check this one out, it may be imperfect in some areas, but it is a picture that is directed by a director who knows how to bring an engaging story to the screen. Genre fans will surely enjoy the film like I did. Halls of Montezuma is an accomplished picture that stills holds up to this day.

Remember when Hollywood depicted war as glorious and romantic? This is Richard Widmark storming the beaches of pacific islands, taking out Jap pillboxes with a machine gun in one hand and a pistol in the other. This is navy corpsman Karl Malden patching up wounded comrades and private Jack Palance lobbing grenades from a foxhole. This isn't just a post-WWII action film, it's a God damned two hour recruiting poster!

Lewis Milestone made some great war films, but this WWII drama about a marine platoon commanded by Richard Widmark doesn't measure up to his best. The action is all smoke and noise, with little pause for any character development and the supporting cast overact their badly melodramatic, overly stereotypical roles to a rather cringeworthy degree (Jack Palance's performance in Batman is comparatively understated compared to this!) The technique of using flashbacks to contrast the soldier's pre-war lives is also clumsy, and Widmark too often looks more like a social worker dishing out Werther's originals than a battle hardened lieutenant. The lack of humanity in the script is highlighted particularly in a scene where a tank sprays napalm on Japanese positions with no thought or mention of it's victims, as the marines look on cheerfully as if they're watching a sunday afternoon barbecue. It does have moments; particularly in the scenes involving the Japanese prisoners, but as a whole it's too simplistic and cliched.
See Details