Happy Flight
(2008)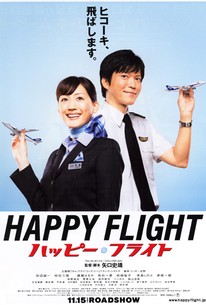 AUDIENCE SCORE
Critic Consensus: No consensus yet.
Movie Info
Comedy and suspense take turns in this crowd-pleasing picture from popular Japanese director Shinobu Yaguchi. Flight 1980 is preparing to take off from Tokyo to Hawaii, and a team of trained professionals is working to see the flight goes smoothly. Capt. Harada (Saburo Tokito) is a tough, by-the-book pilot who is training young co-pilot Suzuki (Seiichi Tanabe) who is eager to move up to full pilot's status. The flight is also carrying a new stewardess, Saito (Haruka Ayase), who is nervous about working under exacting Chief Purser Yamazaki (Shinobu Terajima), a taskmaster who also intimidates the more experienced Mari (Kazue Fukiishi). Meanwhile at the airport, Kimura (Tomoko Tabata) deals with lost luggage and disgruntled passengers, and the head of the ground crew (Ryosei Tayama) and his chief weather adviser (Ittoku Kishibe) strive to get the flight off the ground safely and on time. Despite the hard work and expertise of everyone involved, two unexpected crises put the flight in grave danger -- a new computer system aboard the jet malfunctions, and as Capt. Harada turns back to Tokyo, it's discovered a hurricane is brewing just off the coast. Can Flight 1980 safely land before the storm hits the airport? A major box office success in Japan, Happy Flight was also screened in competition at the 2008 Pusan International Film Festival.
Critic Reviews for Happy Flight
There are no critic reviews yet for Happy Flight. Keep checking Rotten Tomatoes for updates!
Audience Reviews for Happy Flight
½
Shinobu Yaguchi has already proven that he can deliver amusing Japanese comedies with Waterboys and Swing Girls. Does he drop the ball with Happy Flight? Of course not. [Thumbs Up].
The weakest aspect of this film is probably the plot. Set entirely at an airport and on a plane, there isn't much depth to anything. Basically, whatever can go wrong on a flight, goes wrong. It seems it is not such a happy flight after all.
Well, what the film lacks in story, it makes up for in everything else. There is quite a variety of characters to follow, ranging from pilots, flight attendants, mechanics, ground control, etc. This movie actually gives good insight into what makes an airport function.
The comedic elements are funny. This isn't a non-stop laugh-er, but it isn't trying to be. It seems Yaguchi knows the secret for when to make Happy Flight serious and when to make it funny. [Thumbs Up].
As mentioned earlier, there are a number of memorable characters, but Haruka Ayase is really something. Her facial expressions and personality are just adorable. The rest of the cast fulfill their duties as well.
Happy Flight is another successful film on Shinobu Yaguchi's resume, and fans of his previous works will most likely enjoy this one as well. [Thumbs Up].
Happy Flight Quotes
There are no approved quotes yet for this movie.
Discussion Forum
Discuss Happy Flight on our Movie forum!