Hope Floats
(1998)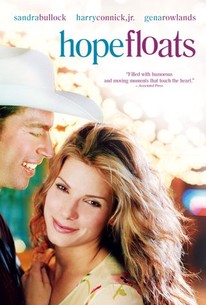 Movie Info
Actor/director Forest Whitaker (Waiting to Exhale) helmed this romantic drama about a one-time high-school beauty queen who returns to her hometown of Smithville, TX. The Steven Rogers screenplay begins in Chicago, where blonde Connie (Rosanna Arquette, uncredited) appears on a trashy daytime talk show and tells a nationwide TV audience about her affair with the husband of her best friend, Birdie Pruitt (Sandra Bullock). Walking into the ambush, Birdie is paraded forth for a public humiliation as Connie's claim is confirmed by husband Bill (Michael Paré). Birdie and her young daughter, Bernice (Mae Whitman), then move back to Texas to live with Birdie's eccentric mother, Ramona (Gena Rowlands), a taxidermist who has filled the house with stuffed animals. Since most of Smithville saw the TV show, embarrassment keeps Birdie sitting around the house in her pajamas; however, her moment of glory as the homecoming "Queen of Corn" has not been forgotten by handyman Justin Matisse (Harry Connick Jr.), the first guy who kissed her back in high school, so a romance soon begins. "Just give hope a chance to float up and it will," says Birdie. ~ Bhob Stewart, Rovi
People Who Like this movie also like
Critic Reviews for Hope Floats
Audience Reviews for Hope Floats
An airy, nothing kind of film, which is always trying to be more than it is. You go in thinking itâ(TM)s some flouncy Sandra Bullock vehicle, where she can be her goofy self while falling in love with the handsomest of men on the planet. Instead of being a romantic comedy it's more of a character study of a bereaved woman who is ridiculed and belittled after suffering public embarrassment. The beginning, when we're first introduced to Birdee, a divorced single mother who moves home after being humiliated by her husband and his lover, itâ(TM)s actually quite moving and sweet. Though the daughter is an intimate character, and a look into the true psychological faculties of a girl her age, the rest of the family and the husband are ridiculous caricatures. Watching the daughter and wife interact, it was hinted that the husband was this deeply flawed character, but he has all the parameters of some nothing villain. Gena Rowlands is a hard hearted eccentric who's only there to thrust Bullock's struggles to the surface. Though I enjoyed what she brought to the film as a character, using her as a plot point further on was despicable. The other kid, a boy who likes to act as things, didn't have enough backstory with his no good mother to render a specific response except distaste. Though his antics and tendency to keep silent were perfectly odd and childlike, I would have liked to see a broader side of him. The movie altogether is schmaltz. What she has to overcome and the way she does it is small stuff, an amalgamation of every other drama of this genre, or of that decade. There is so much someone can do with the breakup of a marriage, but they looked solely on the aftermath though that's not what the movie was trying to accomplish. Look at Blue Valentine and tell me it's hard to make a film that's complex but relates to an ordinary occurrence.
Spencer S.
Super Reviewer
Good movie! A little underrated in my opinion, but it's mostly because not too many have seen it. I definitely recommend it! I used to live in Smithville, TX, where the movie was filmed, so I've always liked this film. It's nothing spectacular, but it's worth while. Also, this is one of Sandra Bullock's earlier films, so it's nice seeing where she's come from.
Jameson Worley
Super Reviewer
Sandra Bullock looks lovely as always but this film was very slow and dull. I just kept waiting for something to happen. Thought it might be a rom-com to start with but it was definitely a drama. Just so slow and predictable and nothing really happens. If you want a romantic drama watch the Notebook which also stars Gena Rowlands.
Hope Floats Quotes
| | |
| --- | --- |
| Ramona Calvert: | You smell just delicious, Justin, are you wearin' cologne? |
| Justin Matisse: | Naw, just sweat with a little painter thinner in it. |
| | |
| --- | --- |
| Birdee Pruitt: | Mom, wake up! Oh God, please don't do this. |
| | |
| --- | --- |
| Ramona Calvert: | You have a birthday comin' up. You wanna tell me what you wish for? |
| Bernice Pruitt: | No. |
| Ramona Calvert: | No? Well, that's all right; I'll figure it out with my Grandma magic. |
| | |
| --- | --- |
| Birdee Pruitt: | I would walk through fire before I would break up a family, because I am not a quitter. |