Hostiles
(2018)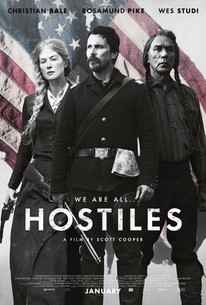 TOMATOMETER
AUDIENCE SCORE
Critic Consensus: Hostiles benefits from stunning visuals and a solid central performance from Christian Bale, both of which help elevate its uneven story.
Movie Info
Set in 1892, Hostiles tells the story of a legendary Army Captain (Christian Bale), who after stern resistance, reluctantly agrees to escort a dying Cheyenne war chief (Wes Studi) and his family back to tribal lands. Making the harrowing and perilous journey from Fort Berringer, an isolated Army outpost in New Mexico, to the grasslands of Montana, the former rivals encounter a young widow (Rosamund Pike), whose family was murdered on the plains. Together, they must join forces to overcome the punishing landscape, hostile Comanche and vicious outliers that they encounter along the way.
News & Interviews for Hostiles
Critic Reviews for Hostiles
Audience Reviews for Hostiles
I've never quite been able to grasp what it is about Scott Cooper's films that make them very good but not great. With all 4 of his feature films (Crazy Heart, Out of the Furnace, Black Mass, and now Hostiles) he has great scripts, talented actors, and a knack for directing hard hitting drama. But it's difficult to put my finger on what's missing from them. All of the aforementioned films I have given solid reviews too, but I've never been blown away by anything Cooper does. It could very well just be that he hasn't had his Oscar caliber film yet. But it also could be that his movies tend to lack one particularly important aspect, heart. Hostiles is a harsh take on the mostly dead genre of western filmmaking. I myself love a good western, as they often exemplify a good vs evil story that can rival the best that storytelling has to offer. And they're even better when the lines of good and evil are blurred entirely. When Hostiles shines most, is when its characters are forced to make decisions that go against everything and anything you thought they stood for, making for impressively effective character beats. Christian Bale, Rosamund Pike, Wes Studi, Ben Foster, Stephen Lang, and Jesse Plemons are among this tremendously well-rounded cast. And clearly, the highlight of the film is the acting, particularly, Studi and Bale. It's not necessarily a story you haven't seen - a man going against his world beliefs to help the very people he has sworn for years to go against/kill - but it's never a story I'm going to deny seeing. Bale plays the conflicted Army Captain, Joseph Blocker, forced to escort a Cheyenne Chief (Studi) and his family to their home. The Dynamic gets more complicated when we find out there's a history between the two (not seen on camera) that gives them both reason to want to kill each other. It's that very dynamic that carries the movie from beginning to end. It's a similar plot to 3:10 to Yuma, also a Bale led Western about a man escorting a criminal to a certain place, but Hostiles is a far more brutal affair of violence, betrayal, and other things that are often found in this bloody genre. Even if there could be a helluva lot more heart and weight to the turning points or big moments, I was enthralled with Hostiles because of its unforgettable visuals and breathtaking performances. 8.5/10
Thomas Drufke
Super Reviewer
Cormac McCarthy's western epic Blood Meridian or the Evening Redness in the West is an obtuse and nearly insurmountable story to commit to screen, and I have my doubts that if it ever is produced that it will properly encapsulate the themes and poetic depth of that novel. But I can appreciate when a movie scratches the surface, and Hostiles is definitely one of those films. In it, Christian Bale is a U.S. Cavalry officer tasked with escorting a Cheyenne war chief back to his tribal home in Montana before the chief succumbs to cancer. To make things worse, the two of them had been at Wounded Knee, and there is a deep-seated hatred stemming from decades of violence that colors the ill-fated expedition and makes survival difficult when they are beset on all sides by murderous Apaches, fur traders, criminals, and landowners. On the way, their party encounters a widow played by Rosamund Pike whose children and husband were murdered days earlier, and there is much weeping and gnashing of teeth. It's hard to dredge up sympathy for people who have committed atrocities in war, and many of these characters know deep down they have gone past the point of redemption some time ago. Learning to live with themselves and do right by their country or god versus relishing the barbarian power of their actions is never quite clearly rectified, and that takes an emotional toll on everyone involved. Bale especially delivers a performance as sympathetic as it is reprehensible, but his and many of the other players characterizations are made a bit too easy thanks to mostly monosemous dialogue. The major themes and internal struggles are clearly stated, leaving little to dissect and ruminate on between the bouts of action and violence that drive the plot. What it may lack in depth, it more than makes up for with atmosphere. Masanobu Takayanagi's cinematography is quite beautiful in parts and effectively captures the scope and complexity of the western landscape. This is only accentuated by Max Richter's haunting score, centered on a one of a kind acoustic contraption from Turkey called a Yabahar. Its forlorn reverberations, zaps, and squeaks bring to mind a cross between the waterphone, the digeridoo, and a synthesizer, giving the film an eerie, otherworldly quality. For fans of the western genre, there's nothing to see here that hasn't been done before. It has a few problems, but what it does it does well. It's certainly no There Will Be Blood or Unforgiven, but Hostiles easily stands out amidst other lesser known modern western staples like Bone Tomahawk, The Assassination of Jesse James by the Coward Robert Ford, and The Salvation.
K Nife Churchkey
Super Reviewer
½
A slow-paced Western with A-list actors, Scott Cooper's Hostiles is a ponderous Western that feels too lost in its own expansive landscapes. It's about an Army captain (Christian Bale) reluctantly taking the lead to escort a Cheyenne chief to die on his native soil. As you could expect from that premise, Hostiles is reverent and meditative to the point of boredom. It deals with Major Themes about man's place in the world, connection to nature and the land, and our treatment of Native Americans, but it feels like it believe it's saying a lot more than it accomplishes. The final film is over two hours but I kept waiting for the movie to feel more substantial, for the real story to start. The premise is workable and there are some interesting side characters, notably Rosamund Pike as the sole survivor of her family's Native American attack, but it all feels underdeveloped to serve the central figure. It's a story of one man having to come to terms and forgive himself for the cruel things he's done in the past in the name of glory, honor, and patriotism. There are too many moments where characters reach out to remind him that he is, in fact, a Good Man. It gets to be too much. The talented supporting cast is generally wasted. Bale (The Big Short) is very internal, almost far too insular as a man speaking with looks and eyebrow arches, as he feels the weight of his soul over the course of this journey. I just grew restless with the movie and kept waiting for it to change gears or get better. Hostiles is not a poorly made movie, nor without some artistic merit, but it's too languid and lacking. Nate's Grade: C+
Nate Zoebl
Super Reviewer
Hostiles Quotes
There are no approved quotes yet for this movie.
Discussion Forum
Discuss Hostiles on our Movie forum!