Hostiles
(2018)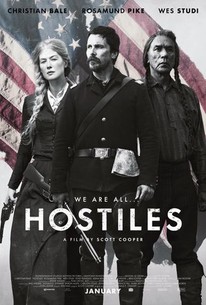 TOMATOMETER
AUDIENCE SCORE
Critic Consensus: Hostiles benefits from stunning visuals and a solid central performance from Christian Bale, both of which help elevate its uneven story.
Movie Info
Set in 1892, Hostiles tells the story of a legendary Army Captain (Christian Bale), who after stern resistance, reluctantly agrees to escort a dying Cheyenne war chief (Wes Studi) and his family back to tribal lands. Making the harrowing and perilous journey from Fort Berringer, an isolated Army outpost in New Mexico, to the grasslands of Montana, the former rivals encounter a young widow (Rosamund Pike), whose family was murdered on the plains. Together, they must join forces to overcome the punishing landscape, hostile Comanche and vicious outliers that they encounter along the way.
News & Interviews for Hostiles
Critic Reviews for Hostiles
Audience Reviews for Hostiles
a beautifully shot but thematically pretty damn gloomy Western. The story is Slow paced but the outstanding acting and interesting premise makes it fascinating and enthralling in every moment. Some character development seems to come a little sudden and the ending is both disturbingly bleak and hopeful at the same time. All that certainly makes you think about the film for a little longer, considering some of its themes resonate in today's political climate. The beautiful images stay with you anyway.
½
An intelligent Western for these modern times, Scott Cooper takes a hard and introspective look at the human heart and what, if anything, is necessary to make forgiveness and moving on possible when dirty history points to nothing else but slaughter to the last soul. A fabled Indian killer is commanded to escort an old enemy home to die is the simple synopsis but there are many more crisscrossed lines of hate between here and there. Cooper and his actors, all more than capable, deliver the goods for a thought provoking evening at the flickers
Kevin M. Williams
Super Reviewer
Well they don't make these anymore. "Cavalry movies" are a sub-genre of the larger Western genre. They were immensely popular from the 1940's through the early 60's. They revolved around the Indian Wars of the late nineteenth century, when the US Army moved to subjugate the remaining tribes living in the plains territories. The ideal force to pursue them was horse cavalry, hence the name of the genre. These movies revolved around the early stages when these conflicts were a bit more even, before infantry and artillery arrived and the destruction of the American Bison forced the remaining plains Indians into reservations. Cavalry films blended Westerns with war film and could be surprisingly reflective for their era. At its worst, grudging respect was given for native tenacity and Sioux martial prowess. And at its best, outright sympathy for a disappearing way of life could be coupled with frustration at Washington's often incompetent conduct, as was seen in John Ford's "Cavalry trilogy." It is considered a mostly dead genre, disappearing with Vietnam, modern revisionist views of Native Americans, and the changing nature of the American film industry in the wake of the collapse of the Golden Age studio system. The most recent major entry was Dances with Wolves which was an outright subversion of the genre, and Geronimo: An American Legend which attempted some commentary of its own. But it never quite got the full post-modern deconstruction that gunslinger Westerns received in the form of Clint Eastwood's Unforgiven or the Civil War Western received in Ang Lee's Ride with the Devil. Yet that is what we get in Hostiles - a long hard look at a bygone era of film and it's unafraid to remain sympathetic to both sides. The plot centers on a decorated US Cavalry Captain (Christian Bale) who is tasked with the escort of a dying Cheyenne war chief (Wes Studi) and his family to their tribal lands. This is complicated by the fact that both are former bitter enemies. Along the way they fight with rogue Comanche and pick up a homesteader (Rosamund Pike), whose family they have slaughtered. Hostiles is a glacially-paced film with the wide vistas and quiet reflection you'd imagine from the description I have just given you. But it goes further with many of the characters being echoes of the stereotypes seen in the Westerns of yore. Many of them clearly suffer from PTSD and are breaking under the weight of their own guilt. And most simply want to die with some amount of dignity. The performances are all amazing, Bale and Pike's efforts being particularly noteworthy as both give earnest glimpses at survivor's guilt. But the supporting performances also floored me. Wes Studi, Ben Foster, Rory Cochrane, and Jesse Plemons all have their moments and subvert the stereotypes that lesser movies would have them inhabit. Hostiles has a minimalist score and steady cinematography in addition to decent writing. The last act goes a bit too far in its effort to eliminate characters - it does resemble a horror body count film by the end. Take from that what you will. This is not for everyone, but I'd imagine most of my friends would get something out of it. Older audiences in my theater expecting a friendly western came out quite horrified. So that means you should go see it.
Joshua Sheetz
Super Reviewer
Hostiles Quotes
There are no approved quotes yet for this movie.