I Spy
(2002)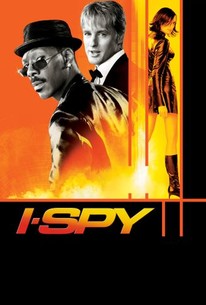 Movie Info
Yet another classic television series from the 1960s gets a big-screen update in this action-comedy inspired by the Bill Cosby/Robert Culp vehicle I Spy. Alex Scott (Owen Wilson) is a federal intelligence agent who has been assigned to find a particularly expensive and valuable weapon which has gone missing: a special stealth fighter jet which can not only hide from radar, but also turn invisible to the human eye. Scott learns a rogue agent has sold the jet to Gundars (Malcolm McDowell), a powerful and unscrupulous underground arms dealer. After blowing his opportunity to catch Gundars in the act, Scott formulates a Plan B -- it seems Gundars is a rabid boxing fan, so in order to get inside his organization, Scott recruits Kelly Robinson (Eddie Murphy), a longtime middleweight champion whose ego nearly exceeds his talent in the ring. Robinson is excited by the prospect of a life of espionage, but Scott and Robinson's personalities are like oil and water, and matters are hardly helped by the efforts of less-than-helpful fellow agents Rachel (Famke Janssen) and Carlos (Gary Cole). This adaptation of I Spy was directed by a woman who starred in a memorable television series herself, former Hill Street Blues regular Betty Thomas, who has gone on to a successful career behind the camera.
People Who Like this movie also like
News & Interviews for I Spy
Audience Reviews for I Spy
½
Get another field of view Not a very funny movie. The story really is weak and barely good action comes our way. I saw this film pretty much for Owen Wilson since i'm not a Eddie Murphy movie fan per se. Watch at own risk! When the Switchblade, the most sophisticated prototype stealth fighter created yet, is stolen from the U.S. government, one of the United States' top spies, Alex Scott, is called to action. What he doesn't expect is to get teamed up with a cocky civilian, World Class Boxing Champion Kelly Robinson, on a dangerous top secret espionage mission. Their assignment: using equal parts skill and humor, catch Arnold Gundars, one of the world's most successful illegal arms dealers, and foil his treacherous plans for the plane.
More another worthless picture by Betty Thomas and Eddie Murphy.
Lucas Martins
Super Reviewer
High School theater viewing, didn't like it at the time. Thought one scene was funny but was disinterested throughout. Watched it again recently and my opinion hasn't changed. Eddie Murphy is Chris Tucker in Rush Hour or Eddie Murphy in anything he has ever done.
Lenny Muggsy
Super Reviewer
I Spy Quotes
| | |
| --- | --- |
| Kelly Robinson: | My hunches are correct 7 out of 10 times. That's a high-ass ratio! |
| | |
| --- | --- |
| Alex Scott: | Size matters, but in the Spy world its reverse. They say, look sleek and small and sexy this is, not how huge this is....how can I pull it out of my pants its huge!!! |
| Alex Scott: | Size matters, but in the Spy world its reverse. They say, look sleek and small and sexy this is, not how huge this is... how can I pull it out of my pants its huge! |
| | |
| --- | --- |
| Kelly Robinson: | i'm 57 and 0 baby |
| Kelly Robinson: | I'm 57 and 0 baby. |