Juhong Geulshi (The Scarlet Letter)
(2004)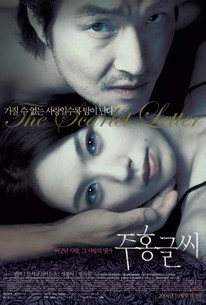 AUDIENCE SCORE
Critic Consensus: No consensus yet.
Movie Info
Egotistical police detective Ki-hun (Han Suk-gyu) leads a double life, easily maintaining a perfect marriage to Ga-hee (Lee Eun-joo) while having an affair with Ga-hee's friend Su-yeon (Um Ji-won). But Ki-hun's secret world begins to crumble when he investigates a murder case that centers on the victim's widow, sexy Kyong-hi (Sung Hyun-ah). Adultery factors into the murder, paralleling Ki-hun's life and resulting in a shocking plot twist.
Critic Reviews for Juhong Geulshi (The Scarlet Letter)
There are no critic reviews yet for Juhong Geulshi (The Scarlet Letter). Keep checking Rotten Tomatoes for updates!
Audience Reviews for Juhong Geulshi (The Scarlet Letter)
½
A serious adult movie, which is really more about the relationships. This film is a downer and even more depressing after realizing the shining star of the film, Lee Eun-Ju, committed suicide shortly after the film was completed due to depression she was experiencing and anger from her parents for being in a few nude scenes in this movie. The three lead actresses all are stunnningly attractive, but with distinct personalities. Lee Eun-Ju clearly rises above all, and is quite vibrant and authentic in her emotional range displayed in the story. Uhm Ji-Won, as the wife, seems rather innocent and stoic; playing her role in a minamilist style, very restrained as though she is on painkiller medication. The third jewel, Seong Hyeon-a, plays the role of the murder suspect, and acts and speaks as though she is on trial, choosing every word she speaks carefully and tentatively. All three beauties shine in their respective ways and provide a realism to the film rarely exhibited. The outlying story itself, i.e. the murder, is almost an afterthought. Overall its more a tale all too familiar in todays society, and moves very, very slowly. It is worth watching for Lee's performance alone; but be advised this is an agonizingly sad tale, with no winners.
Juhong Geulshi (The Scarlet Letter) Quotes
There are no approved quotes yet for this movie.