Justice League
(2017)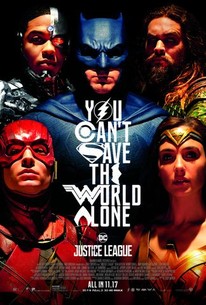 TOMATOMETER
AUDIENCE SCORE
Critic Consensus: Justice League leaps over a number of DC movies, but its single bound isn't enough to shed the murky aesthetic, thin characters, and chaotic action that continue to dog the franchise.
Movie Info
Fueled by his restored faith in humanity and inspired by Superman's selfless act, Bruce Wayne enlists the help of his newfound ally, Diana Prince, to face an even greater enemy. Together, Batman and Wonder Woman work quickly to find and recruit a team of metahumans to stand against this newly awakened threat. But despite the formation of this unprecedented league of heroes--Batman, Wonder Woman, Aquaman, Cyborg and The Flash--it may already be too late to save the planet from an assault of catastrophic proportions.
News & Interviews for Justice League
Critic Reviews for Justice League
Audience Reviews for Justice League
Whether or not you feel like arguing for DC or Marvel, a good movie is a good movie, regardless of who made it. The terms 'fun' and 'dark' are the two that get tossed around the most when comparing these two franchises, and while many people are wrong to like a movie based on its tone, I can gladly say that not much complaining can be done about the tone of Justice League. Meshing light and dark to form a solid mixture of the two, due to some unfortunate circumstances behind the scenes, may have actually made this a better film than it originally was, but who really knows. As I said, the tone of this film is great in my opinion, but the movie itself is quite the mixed bag. There is a lot of fun to be had with Justice League, but here is a weighing of the pros and cons of this highly anticipated addition to the DC Universe of films. The premise is quite simple. An evil force in Steppenwolf has arrived and needs to find three so-called mother boxes in order to take over the world. Using what little backstory that Bruce Wayne has on many super-powered people, he, along with the help of Diana, form a team to take him down. With the hope that Superman may also return, this team must do everything they can to hopefully save the day. Although these characters are all a joy to see interacting with each other, herein lies the biggest issues with the film as a whole. There isn't much to say about the villain here because his storyline is almost too simple to even want to describe. He's a generic bad guy that wants to take over the world, who really only exists in order to make this team feel the need to band together and save the world. When a villain is just a tool for a team to exist, the overall impact of your movie won't ever reach a high point. That being said, even though the villain ruins the entire film for me every time he's on-screen, the characters surrounding him and how they all come together was really the highlight of the movie, making the price of admission worth it. No, characters like Cyborg, Aquaman, and The Flash aren't given quite enough backstory to really feel for them, but the casting of them is terrific and the little screen time they're given is fantastic. Their interaction with one another was great and I can't wait to see more of them in the future. There's honestly nowhere to go but up from this messy installation. Ben Affleck and Gal Gadot once again bring everything they have to the table and they sure seem to be making these characters their own, so I really hope they stick with this franchise for at least a few more years, because I feel as though there are some entertaining stories to be told if the post-credits sequences have anything to say about it. Many people will be going into this film hoping for some exciting Superman action, and although I won't give anything away for fans, I'll simply state that his small presence is more than worth the wait. Like in Man of Steel, his character, along with Lois Lane and his mother Martha definitely adds some great emotion to certain elements of the film. In terms of entertainment, this movie held my interest from start to finish and I'm actually looking forward to seeing the future progression of these characters after these first rocky few films. I like these characters a lot. They just deserve better films. In the end, comic book fans will have their share of shrieks throughout the film, from cameos to world-building, but it really just comes down to whether or not this is a good movie for the majority of audiences to flock out and see. Upon reflection, I enjoyed much more about this film than I disliked, so I would warrant a recommendation, but only to those who've followed each installment since Man of Steel, because not knowing who certain characters are would be a detriment to your experience. The movie feels very rushed, but there are great character moments to make up for that. Even though there is some very obvious CGI work throughout the film, the action is exciting and a joy to see on the big screen. Even though the villain is terrible, the team is a blast to see interacting on-screen. I seem to be finding a pro for every con, but it just comes down to whether or not I had a good time, and that's a pretty definitive yes. Justice League is a mess, but it's a mess I had fun with and that shows promise for the future. I enjoyed myself for the most part.
½
Reviewing Justice League is like an exercise of finding "sympathy" marks to help get a passing grade. Despite a good ensemble cast riding on the coat tails of the powerful box office performance of Wonder Woman, Justice League was painfully bland, lacking a compelling story and a satisfying narrative. Especially so, when it is imperative in these superhero stories to have a convincing baddie to face off with - Steppenwolf was a cold CGI character with horns and zero personality. The pacing was uneven, and editing was weak, with the third act sadly anticlimactic. Loved some of the funny banter, but it could not shake off the glaring plot holes, the lack of drama and the lack of spectacle. Even Superman's "resurrection" felt too contrived. Not a good start for the DC universe, given such an ineffective script to begin with, and this would be such a a waste, given the good ensemble. Interestingly, there are two post-credit scenes too (a first for a DCU film!) that you must not miss.
Chrisanne Chin
Super Reviewer
½
Batman V Superman was a combination of messy storytelling and a studio looking to launch a full scale universe without all the origin groundwork. This film has surprised me and the outlook for the DC world is looking very bright. I get a sense that this film will encourage Warner Bros to launch much more films and allow the world to flourish. The film did feel short and I feel they missed a lot of potential nods and winks that Synder may have had in his film. I think the Dvd release should have both cuts, Synder needs a long drawn out film while Whedon knows how to hit the quick bears. The characters are all great and I hope with the introduction of the Flash, we will see Green Arrow coming to the big screen one day. I loved the villain in this film, he was a constant risk to our heroes and without the inclusion of the big S, things may have turned out a lot different. Glad the DC world is kicking but my constant annoyance is where Affleck will go with The Dark Knight, he seems bored, great actor for the role but off screen he lacks the passion. I liked this better than Thor 3, mainly because DC has a better understanding of character arcs and emotion. I just hope they don't go down the road of popcorn fare, won't suit the tone of these films. 16-11-2017.
Brendan Nicholls
Super Reviewer
Justice League Quotes
There are no approved quotes yet for this movie.
Discussion Forum
Discuss Justice League on our Movie forum!