Kill Bill: Volume 2
(2004)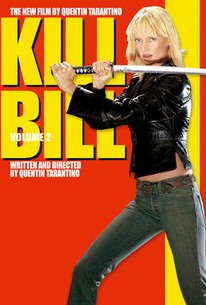 TOMATOMETER
AUDIENCE SCORE
Critic Consensus: Kill Bill: Volume 2 adds extra plot and dialogue to the action-heavy exploits of its predecessor, while still managing to deliver a suitably hard-hitting sequel.
Kill Bill: Volume 2 Videos
Kill Bill: Volume 2 Photos
Movie Info
Quentin Tarantino's sprawling homage to action films of both the East and the West reaches its conclusion in this continuation of 2003's ultra-violent Kill Bill Vol. 1. Having dispatched several of her arch-enemies in the first film, The Bride (Uma Thurman) continues in Kill Bill Vol. 2 on her deadly pursuit of her former partners in the Deadly Viper Assassination Squad, who, in a furious assault, attempted to murder her and her unborn child on her wedding day. As The Bride faces off against allies-turned-nemeses Budd (Michael Madsen) and Elle Driver (Daryl Hannah), she flashes back to the day of her deadly wedding, and we learn of how she was recruited to join the DiVAS, her training under unforgiving martial arts master Pai Mei (Liu Chia-hui), and her relationship with Squad leader Bill (David Carradine), which changed from love to violent hatred. Originally planned as a single film, Kill Bill grew into an epic-scale two-part project totaling more than four hours in length; as with the first film, Kill Bill Vol. 2 includes appearances by genre-film icons Sonny Chiba, Michael Parks, Larry Bishop, and Sid Haig; Wu-Tang Clan producer and turntablist RZA and filmmaker and composer Robert Rodriguez both contributed to the musical score. ~ Mark Deming, Rovi
News & Interviews for Kill Bill: Volume 2
Critic Reviews for Kill Bill: Volume 2
Audience Reviews for Kill Bill: Volume 2
This is a mild improvement on the first film, mostly because it ties up all the questions left open at the end of the first instalment. That said, it's mostly just as bad, the only real difference being the change of setting. The cold-blooded, icy, emotionless martial arts scene of Japan is substituted for the wilds of Texas, with its spitting, campervans and general obsession with guns (Tarantino not trying to dispel any clichés, just as he would later do in Death Proof). There are a couple of good performances in Volume 2 which lift the experience, even if the actors still have to work with terrible lines. Daryl Hannah, who had a bit part in the first film, comes into her own as the classy Elle Driver. It's probably her best role since Blade Runner, if nothing else because she looks more emotionally involving than she did in Splash. She certainly looks the part, as does Michael Madsen, who plays Bill's bouncer-and-bum brother, and the guy who buries Uma Thurmann alive. He comes across as a total sleezeball, and you don't feel sorry for him when he gets bitten in the face by a black mamba. Otherwise, this is as clunky as the first film. The script is cloyed and clichéd, the characters have no real depth and the martial arts sequences are included purely for style. Evidence of the script being bad can be found in two real places. The first is in the campervan where Beatrice (as she turns out to be) plucks out Elle's remaining eye. Hannah proceeds to writhe around the floor and all she can manage is to scream the word "bitch" over and over again until the word has no impact. The second example is the long drawn-out final confrontation between Bill and Beatrice, featuring a long and not especially profound conversation on comic books. There's more annoying manipulation of the storyline - for instance the extended flashback to Beatrice's marshal arts training with Pai Mei while buried alive. Considering Tarantino devotes more than 20 minutes to this part of her life, surely she'd be dead by the time it ended? She'd certainly not be strong enough to push her way out, having been gradually starved of oxygen. The ending of the film is also poor, with a terribly long and over-elaborate credits sequences, along with a sentimental yet unbelievable reunion of mother and daughter as they begin a 'normal' life together. Overall, Kill Bill Volume 2 is a mild improvement on Volume 1, is nothing else because it has two vaguely developed characters. But most of its acting is still wooden, its direction unoriginal, and the sheer barrage of pop culture references is really irritating. If you've seen the first one, you should watch this so that it makes sense; if you haven't, don't feel you're missing out.
Daniel Mumby
Super Reviewer
½
A bit of an improvement over its first half, but not by much. But i was impressed with some of its character work and David Carradine`s magnificent performance which made the film.
The Bride: I've killed a hell of a lot of people to get to this point, but I have only one more. The last one. The one I'm driving to right now. The only one left. And when I arrive at my destination, I am gonna kill Bill.  "The Bride Is Back For The Final Cut" Kill Bill Vol. 2 is a good addition to the first film. Where the first film was a wall to wall action packed entry, this one slowed it down just a little bit and made for a more conversational film. It still had action and it still had the awesome choreography the first had; it just had longer scenes with more dialogue. For some action movies, that wouldn't work, but when Tarantino I'd the filmmaker; dialogue is a great thing. The more dialogue, the better, in my opinion. I liked this one just as much as the first and I think a second viewing of both would make me like them even more.  You should know the plot as it is the title, but this is the one where she actually kills Bill. Along the way she kills some other people that had a hand in her death. We also see the scene right before Bill tries to kill her at the church, and we see her get training from the very man that Bill got his training from. Like the first one, and just about every Tarantino film, the plot jumps around. It's told in a very non-linear fashion, which has proven to work perfectly for Tarantino.  Film lovers love these movies because there is just so much to take away from them, even on the first viewing. Tarantino's love for movies come out in these Kill Bill movies more than any other movie he has made. Everything about Kill Bill is done in a very detailed, very technical, very workmanlike way. Every shot, every song, every piece of dialogue, is exactly the way Tarantino wants it. A lot of what's going on in these movies is paying homage to the movies he loved.  As a combination, these movies are amazing. Uma Thurman is the perfect fit for her character, as is David Carradine. These movies are a film buffs dream, but so is Quentin Tarantino. The Kill Bill movies are must see films. If you love any genre that these movies touch, it's necessary. If you love smart, exciting, action packed, funny films, watch these movies. You won't be disappointed in the four hour long runtime of the two films together. 
Melvin White
Super Reviewer
Kill Bill: Volume 2 Quotes
| | |
| --- | --- |
| Bill: | Clark Kent is Superman's critique on the whole human race. |
| | |
| --- | --- |
| The Bride: | Something's I've been curious about, just between us girls, what did you say to Pai Mei to make him to snatch out your eye? |
| Elle Driver: | I called him a miserable old fool. |
| The Bride: | Ooh, bad idea. |
| Elle Driver: | You know what I did? I killed that miserable old fool. I poisoned his fishheads. And I told him, "To me the word of an old fool like you is worth less than nothing." That's right, I killed your master. And now I'm going to kill you, with your own sword, no less, which, in the very immediate future, will become my sword. |
| The Bride: | Bitch. You don't have a future. |
| | |
| --- | --- |
| The Bride: | My pussy wagon died on me. |
| | |
| --- | --- |
| The Bride: | Are you saying that I'm a superhero? |
| Bill: | No I'm not saying that you're a superhero but I'm saying that you're a killer, a natural born killer. |
Discussion Forum
Discuss Kill Bill: Volume 2 on our Movie forum!