Killshot
(2008)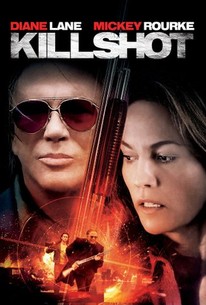 Movie Info
Prime Suspect 4 and Inspector Morse director John Madden comes back to the world of crime after a brief foray into romance with Shakespeare in Love and Captain Corelli's Mandolin with this adaptation of pulp icon Elmore Leonard's novel concerning a real estate agent and her husband (Thomas Jane) who become the targets of two relentless mafia hitmen. When real estate agent Carmen Colson (Diane Lane) catches a glimpse of a hitman named the Blackbird (Mickey Rourke) as he carries out a job, a subsequent request for her to testify against the aging gun for hire soon lands both Carmen and her husband, Wayne (Thomas Jane), in the Witness Protection Program. Blackbird isn't a man who likes to leave loose ends when it comes to his work, though, and now as the seasoned assassin and his psychotic partner (Joseph Gordon-Levitt) attempt to catch the couple in their crosshairs, Carmen and Wayne are going to need much more than a few federal agents to make it out of increasingly deadly situation alive. ~ Jason Buchanan, Rovi
News & Interviews for Killshot
Critic Reviews for Killshot
Audience Reviews for Killshot
Fairly entertaining action thriller, Killshot boasts a varied cast of talented names and an entertaining story. But it has been done before, and better, however this is enjoyable viewing if you enjoy a tense, thriller that is entertaining, even if it doesn't add anything new to the genre. Killshot is not great, but I enjoyed it for what it is, an hour and a half thrills and with a good enough story to keep you entertained, it's worth seeing if you're interested in the genre. What makes the film interesting is the cat and mouse game being played throughout the film. Mickey Rourke is perfect for the part, and he does play a good on-screen villain. Even if the film doesn't break new ground, Killshot still is worth seeing due to the good cast, story and direction. The film delivers something memorable, and it's a movie that is edge of your seat thrills from start to finish. Even if it's not a perfect movie, it's one that manages to grab your attention because its cast deliver some effective performances that more than make up for its imperfections. Even if it's a film that uses familiar ideas from different films, Killshot manages to be a worthy viewing because there are some terrific talent within the film. Killshot is a good affair and like I said, there are plenty of memorable performances, especially Rourke who in the last few years has really made some fine movies. If you're looking for a worthwhile thriller, Killshot is worth seeing if you're in the mood for thrilling entertainment. The film may not be perfect, but it has enough moments to make it worth seeing and with a cast like this, it's a film that overcomes its flaws, and makes something that we've seen before into a film that nonetheless is exciting despite the fact it's a film that has been done before.
½
This starts of looking like a great hitman flick with an ice cool looking Rourke and a possible gun totting plot brooding...but alas. Enter Joseph Gordon Levitt with a massively over the top performance as a loose cannon southern hick and trying his best to do what Brad Pitt and Johnny Depp have done before, be a cool, sexy and charismatic villain. Instead he comes across as rather embarrassing and annoying with way too much eyebrow movement. The film itself is pretty disconnected with plot holes and jumps making you wonder why and how until you later realise but then don't really care. You watch this really hoping for some cool gun play from Rourke or something, just to confirm his cool looking character but again alas.... Nothing much happens until the predictable end which is helped along by the predictable Thomas Jane haha can read that guy like a book. Filler for Rourke until some big flicks get made.
Phil Hubbs
Super Reviewer
Novelist Elmore Leonard's writing is always sharp with snappy dialogue and well drawn characters. His stories are so descriptive that he's practically already written the script, making his books easy to adapt to the screen. This was one that had all the ingredients for being another successful transfer from page to screen, but for the fact that it's mediocre and lifeless. Wayne Colson (Thomas Jane) and his estranged wife Carmen (Diane Lane) are placed in the Federal Witness Protection program after witnessing an extortion scheme go wrong. Under the protection of the F.B.I isnt enough though, when experienced hit-man Armand "Blackbird" Degas (Mickey Rourke) and psychopathic young upstart killer Richie Nix (Joseph Gordon-Levitt) are determined to track them down. Notable successful adaptations of Leonard's novels have been Steven Soderbergh's "Out of Sight", Barry Sonnenfeld's "Get Shorty" and Quentin Tarantino's "Jackie Brown" but this actually achieves something that none of them managed to do and something thats not easy to do either... making Elmore Leonard's writing seem dull. This is devoid of any excitement at all. They have taken any form of suspense out and made a slow, lethargic excuse for a thriller. Rourke (as usual) is great in his brooding role and Gordon-Levitt adds some edge to the film as his pyschotic sidekick - roles that were originally intended for Robert DeNiro and Quentin Tarantino - but "Shakespeare in Love" director John Madden gets it all wrong. His treatment is flat, but I'm assuming that the fact the screenplay went through uncredited rewrites and the film itself was held back from release due to extensive cuts (Johnny Knoxville playing a crazy sheriff being a major one) that the whole troubled production has not been kind to its director. It all shows in the end result. If it wasn't for Rourke and Gordon-Levitt, this would be a complete waste of time. A wasted opportunity and an example of how a good story can be wasted in the wrong hands.
Mark Walker
Super Reviewer
Killshot Quotes
There are no approved quotes yet for this movie.