Kingdom of the Spiders
(1977)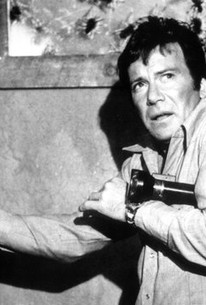 Kingdom of the Spiders Photos
Movie Info
In Kingdom of the Spiders a swarm of huge tarantulas, enraged by the misuse of pesticides, try to take over their part of the world. Dr. Robert Hansen (William Shatner), a local Arizona veterinarian joins forces with entomologist Diane Ashley (Tiffany Bolling) to keep the spider population under control. Woody Strode and Altovise Davis also appear as the owners of a neighboring ranch. Unstylishly directed by John Cardos and produced with a sense of humor by "Arachnid Productions," -- and despite bad dialogue, wooden acting and poor special effects -- Kingdom of the Spiders has become a cult classic and favorite of several generations of giant insect horror film buffs.
Critic Reviews for Kingdom of the Spiders
Audience Reviews for Kingdom of the Spiders
Strictly for Cult film fans, Kingdom of the Spiders is the definition of so bad it's good filmmaking. The film stars William Shatner and focuses on a small town terrorized by spiders. This is an enjoyable schlock fest that is sure to please genre fans, and it's a fun nature gone awry film, but it's also one that you need to go into with an empty head to really enjoy due to the fact that many scenes in the film are downright ridiculous such as when a woman shoots a spider off her hand and in the process shoots two of her fingers off. I mean, really? What the hell was that? Oh well, it was a pretty funny scene, and it will definitely make the viewer laugh in disbelief and the character sheer stupidity. Kingdom of the Spiders is a fun, entertaining midnight movie, a film that will entertain viewers that enjoy these movies. The film is pure 70's cheese, and it pulls it off very well, and in the mid to late 70's, everyone seemed to want to make a nature gone wild film due to the success of Jaws, and spiders seemed to be the next logical step in furthering this sub genre of horror film. Like I said, this is strictly for cult film fans, and if you're not familiar with the genre, you may want to pass this one up, but to those that enjoy, mindless, cheesy horror films, and then you'll find exactly what you're looking for with this movie. There is enough tongue in cheek moments and mindless entertainment value to be had in the film and the story itself is interesting, but it also uses the typical, clichéd nature gone wild formula that we've already seen many times before. Kingdom of the Spiders is sure to please genre fans, but it won't do anything to casual viewers.
½
Probably one of the more well known older creature features that has obviously gone on to inspire further films. To be honest one reason why this is more famous than others is probably down to having Shatner in the lead role. The plot is pretty obvious really isn't it, the title says it all, its about spiders and they're killing everybody. But more specifically its about the use of pesticides and how they are wiping out the food source for all these tarantulas (yep that's right tarantulas). This is causing the eight legged creepy crawlies to band together and go off in search of larger prey. So naturally they are after humans after taking down some other larger animals. What is so funny about this film is the fact that the spiders clearly have no interest in being film stars haha. In every scene the arachnids are merely milling around like spiders do, obviously more terrified of what's going on around them. At no point do they ever look scary or intimidating because it was obviously very hard to get these furry critters to do what was intended. The way some victims are lurching about supposedly dying whilst being attacked is quite amusing because you can see they are trying to balance the spider on themselves so it doesn't fall off or run away. In 'Arachnophobia' the spiders are actually really creepy and do make your hair stand on end because they are skinny, bony, fast and look vicious. Plus the camera angles and use of classic phobias relating to spiders such as finding them inside things, in the shower, in food, the way they scamper around so quickly etc...In this film you don't get any of that because tarantulas are big thick furry things that look like hairy gloves basically. Sure they are scary but they move slowly or not at all and they are known to be harmless so the terror effect doesn't really kick in. The other issue is the fact this small town is being over run by the tarantulas, yet when you get shots of the spiders outside they are just sitting there doing nothing, and there might only be about ten of them haha. There clearly wasn't much care for these furry fellas either as you see some get crushed and run over by vehicles in some shots!. I think the tarantulas are in more danger than the humans in this film. Its hokey ass stuff that's for sure, a guilty pleasure that's pure 70's garbage. It hasn't dated too well either geez, the soundtrack is awful and the picture quality is terrible, actually looks like its been filmed on a handheld by students. It looks like a typical seedy 70's porn flick in places. Its the sight of good old Shatner doing his thing which keeps you going. His over acting in places is the stuff of legend and hilarious, yet I gotta give kudos to him for picking up live tarantulas and having them on his body brrrr (if they were real that is). There are also some other nice shots of victims covered in webbing and tarantulas, brave extras, I wouldn't. Mega cheesy and utterly ridiculous but reasonable fun, the films final twist is actually really good and quite a bold move, don't get endings like that much.
Phil Hubbs
Super Reviewer
A small desert town, infested with stereotypes, is saved when spiders come to kill them.
Randy Tippy
Super Reviewer
Kingdom of the Spiders Quotes
There are no approved quotes yet for this movie.