Kippur
(2000)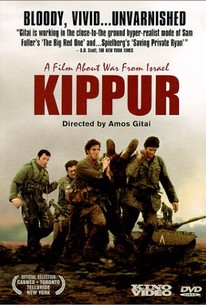 Movie Info
Filmmaker Amos Gitai was a first-hand witness to the 1973 Yom Kippur War, in which troops from Egypt and Syria chose one of the holiest days of the Jewish calendar to launch a surprise attack on Israel. This film examines the short but bloody conflict through the eyes of a student, Weinraub (Liron Levo). Weinraub and his friend Russo (Tomer Russo) have been instructed to join a special military unit on the Golan Heights shortly after the fighting begins, but in the confusion they are instead thrown in with an emergency medical team led by Dr. Klauzner (Uri Ran Klauzner). Weinraub and Ruso help Klauzner and his men rescue the wounded, and they find themselves in as much danger as the soldiers on the front line, as the fighting rages on around them and their helicopter is hit by enemy fire. Meanwhile, on the ground another doctor (Pini Mittleman) tries to preserve an oasis of calm and medical discipline in the midst of war. Kippur was shown in competition at the 2000 Cannes Film Festival. ~ Mark Deming, Rovi
Critic Reviews for Kippur
Audience Reviews for Kippur
Amos Gitai's fictional examination of the Yom Kippur War of 1973 is presented without pretense or embellishment. Like the conflict that inspired it, Kippur is muddy, bloody and disorienting. A fitting commentary on man's perpetual failure to coexist.
Randy Tippy
Super Reviewer
½
A brutally realistic, although not overly graphic, portrayal of war as experienced by those under fire -- in this case, Israeli soldiers under attack from Syria in Northern Israel on Yom Kippur, 1973. Surprisingly low-key and at times almost absurdly comic (along the lines of Catch-22, but not really trying to be funny), the film juxtaposes the idealism of self-defense against the tragic waste and idiocy of violence amidst chaos. A quiet classic.
Seth Rogovoy
½
Ignore the usual comments regards to the flow of the film.It's sheer film-making at it's most possible and at it's most believable.The Israeli Platoon,too much dreadfulness and a few comrades who do the job.Is that all?Gitai locates the gene of good/evil inside the petrified eyes of his protagonists amidst trenches and bombings,where the opening and closing scene are the sole moments of self-relief and future hope.
Dimitris Springer
Super Reviewer
Kippur Quotes
There are no approved quotes yet for this movie.
Discussion Forum
Discuss Kippur on our Movie forum!