La Baie des Anges (Bay of Angels)
(2001)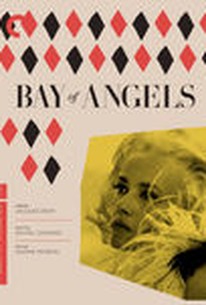 La Baie des Anges (Bay of Angels) Photos
Movie Info
Bay of the Angels (La Baie des anges) stars Jeanne Moreau as a middle-aged Parisian gambling addict who leaves her husband and children and heads for the roulette tables of Nice. There she meets young and handsome Claude Mann--a meeting which coincides with Moreau's first winning streak. She latches onto Mann in the belief that he's a good luck charm, and remains with him even when she starts losing heavily. Mann, emotionally drained, walks out of the relationship. The film ends with Mann entreating Moreau to return with him to the bourgeois existence that she'd escaped in the first scene. Bay of the Angels was directed by Jacques Demy, just before he achieved international fame with his musical films Young Girls of Rochefort and The Umbrellas of Cherbourg. ~ Hal Erickson, Rovi
Critic Reviews for La Baie des Anges (Bay of Angels)
Audience Reviews for La Baie des Anges (Bay of Angels)
I think I have tapped most of the films from the French New Wave so far but this one remained outstanding for a bit. It was worth the wait. If the Long Weekend was the ultimate saga of an alcohol, here we have a tribute to gambling and how some can get sucked into literally gambling away a comfortable existence.
John Ballantine
Super Reviewer
This early Jacques Demy film is beautifully shot and acted with exotic locations, elegant cars and a stirring Michel Legrand score. Unfortunately, the plot soon melts down into just a standard, cautionary tale about gambling. The arc is always the same. There's the initial, euphoric burst of beginner's luck. Then the subsequent frustration and squandering of funds, and an eventual descent into desperate times. Sound familiar? Jean (Claude Mann) is a novice gambler who gets hooked on casinos and meets a nihilistic divorcee (Jeanne Moreau, with platinum blonde hair) on the way. The pair become addicted to roulette, the most frivolous of games, and make lavish bets based on silly whims with scarcely a trace of strategy. Their behavior breeds exasperation rather than sympathy. Even the flashes of success they have don't seem plausible. Try "California Split" instead.
Eric Broome
Super Reviewer
Jeane Moreau is mesmerizing in this role.
Stefanie C
Super Reviewer
La Baie des Anges (Bay of Angels) Quotes
There are no approved quotes yet for this movie.