The LEGO Movie
(2014)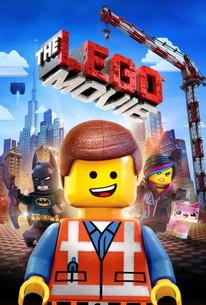 TOMATOMETER
AUDIENCE SCORE
Critic Consensus: Boasting beautiful animation, a charming voice cast, laugh-a-minute gags, and a surprisingly thoughtful story, The Lego Movie is colorful fun for all ages.
Movie Info
"The LEGO (R) Movie" is the first-ever, full-length theatrical LEGO (R) adventure. The original 3D computer animated story follows Emmet (Chris Pratt) an ordinary, rules- following, perfectly average LEGO minifigure who is mistakenly identified as the most extraordinary person and the key to saving the world. He is drafted into a fellowship of strangers on an epic quest to stop an evil tyrant, a journey for which Emmet is hopelessly and hilariously underprepared. (c) Warner Bros
News & Interviews for The LEGO Movie
Critic Reviews for The LEGO Movie
Audience Reviews for The LEGO Movie
½
Looking back on 2014's The Lego Movie, it's hard to imagine a time that a Lego film wasn't great, but before its initial release, eyes were rolling as if Warner Bros. had completely run out of ideas. While that may be true for the most part, having most of their lineup be superhero films or Harry Potter spinoffs, there is no question that The Lego Movie was better than anyone could've ever predicted. From jokes to an emotional impact, this film was complete gold. After three years time of letting the film settle and evaporate from the hype, I have revisited it many times, and it's just as good as ever. Here is what makes The Lego Movie so great. There were multiple stages to what made this film great in the end. Surprises around every turn is what kept the audience engaged, the hilarious non-stop gags are what had fans raving, and the animation was incredibly addictive to watch. Following Emmet, an average, generic, ordinary, everyday construction worker, he is quickly launched into a global journey after coming across a brick known as the piece of resistance. Meeting characters like Wyldstyle, Batman, Unikitty, Benny, and many other pop culture figures along the way, this film is an all-out gag fest. Who the villain is truly revealed to be, however, is the real heart of the story, which makes this film much more than what it advertises itself to be on its surface. From beginning to end, this film exists to warm you heart, but especially make you laugh, and there is never a dull moment. Throughout each and every new location that is visited throughout this film, a new and likeable character is found, eventually joining their group. Now, kids films usually do have a lot of characters and endless amounts of humour, but making fun of other films and being able to deliver pun after pun and actually have them be hilarious every time, is a very impressive feat. Sure, the jokes and the big reveal at the end is what this film will be remembered most for, but these characters are quite fun themselves, to say the least. My biggest complaint about The Lego Movie, even after forgiving it, is the fact at Warner Bros. only have the rights to DC characters and not Marvel characters. Every brand seems to be represented in some capacity here, except for not a single appearance from a Marvel character. This being due to the fact that Sony, Marvel themselves, Universal, and Fox all own the rights to specific characters. Going forward, this leaves little to no chance of ever seeing the true onslaught of Lego characters. Having said that, they do what they can and make the DC characters some of the most likeable portions of the film. In the end, you can't complain about the film itself, but the overall reasoning behind certain things. Ever since their directing debut in Cloudy with a Chance of Meatballs, then impressively rebooting 21 Jump Street, they clearly had a knack for what they loved doing. The Lego Movie became yet another near-perfect addition to their filmography and I can't wait to see what they conjure up for the untitled Han Solo film. In the end, The Lego Movie does get tiresome from how many jokes it throws at you and the onslaught of characters feels unfinished, but those are so infinitesimally small, that this film almost earns a perfect score from me. The Lego Movie is one of the most impressive animated films in quite some time. If for some reason you haven't checked it out, it's hard to say that you won't at least laugh a few times if you don't find yourself loving it as a whole. This film is fantastic!
½
Sweet, humorous and lots of fun. The LEGO movie meets and exceeds all pessimistic expectations of this feature. Whilst visually stunning, the choice of voice actors truly add to the humour and are perfect choices, particularly Liam Neeson, Morgan Freeman and Will Ferrell. Every person who has watched this film has never forgotten the sweet yet ingenious lyrics to "Everything is AWESOME!!". Easy for kids to understand and great nostalgia for older Lego fans, The LEGO Movie has a safe spot on my top 10 of 2014.
Samuel Riley
Super Reviewer
½
A delightful family comedy about an everyday lego construction worker (voiced by Chris Pratt) who is thought to be the "chosen one" by some mysterious figures in the land looking to overthrow the ruthless Lord/President Business (voiced by Will Ferrell). The variety of characters and the fantastic dialogue help drive a creative, inventive story that has jokes for all ages, especially little kids. Pratt is a perfect fit to voice the lead character, while Ferrell, Elizabeth Banks, Morgan Freeman, and Liam Neeson (who almost steals the show as "Bad Cop") offer tremendous support. The finale is an interesting choice and handled very well by the directors, and although there are some questionable political underpinnings concerning its message, overall it is still well worth a view.
Dan Schultz
Super Reviewer
The LEGO Movie Quotes
| | |
| --- | --- |
| Emmet: | Introducing the double-decker couch! So everyone can watch TV together and be buddies! |
| Wyldstyle/Lucy: | That is literally the dumbest thing I have ever seen. |
| Vitruvius: | Please, Wyldstyle, let me handle this. That idea is just. The worst. |
| | |
| --- | --- |
| Wyldstyle/Lucy: | Come with me if you want to not die. |
| | |
| --- | --- |
| Spaceman Benny: | Spaceship! |
Discussion Forum
Discuss The LEGO Movie on our Movie forum!