The Lion, the Witch and the Wardrobe
(1979)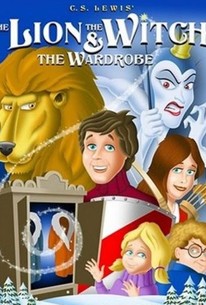 AUDIENCE SCORE
Critic Consensus: No consensus yet.
The Lion, the Witch and the Wardrobe Photos
Movie Info
C. S. Lewis' beloved children's story The Lion, the Witch and the Wardrobe was brought to the small screen in this animated adaptation. Four children are transported to the mythical land of Narnia by way of a magic wardrobe (or clothes closet, if you prefer). Here they confront a wicked witch who has enveloped Narnia in the throes of winter. The kids must fulfill their mission of restoring the rightful king, a friendly lion, to the throne. Originally telecast in two parts on April 1 and 2, 1979, The Lion, the Witch and the Wardrobe was co-produced by Bill Melendez Productions, the Children's Television Workshop, the Episcopal Radio-TV Foundation, TV Cartoons and Pegbar Productions.
Critic Reviews for The Lion, the Witch and the Wardrobe
Audience Reviews for The Lion, the Witch and the Wardrobe
Seen many years later in adulthood, the cartooning seems limited but the story still has its charms especially when Aslan poops flowers on resurrection.
John Ballantine
Super Reviewer
31/08/2010 (DVD) It's pretty old and the animation might of been a hit back when it was released but watching it now... it's actually a bit of a laugh. The story however is maintained and it's pretty much nearly the same as all the versions out there, only this one looks it's age. I've seen a lot of remakes and versions of this and I like the fact that all versions didn't put as much of a spin on things as re-writes/re-makes usually do. Cool. If you've seen the latest "Narnia" flick then there is really no reason for watching this, but if you desire to do so it's up to you. Not the best in my opinion but it's an alright check if you just want to check out the other versions like me and make comparisons.
EightThirty .
Super Reviewer
Even though this film holds a sort of special place in my heart from my childhood, that doesn't make it good. It's pretty darn close to the book which is the one thing it can boast to the new and improved edition, but this doesn't really help. Seeing as it's a kids film, designed specifically to be as G as cartoonly possible, don't be looking for anything amazing here. The writers have taken some liberties with the script, such as the child and lion dance after the stone table incident, and these are mostly good. However, you'll only really like it if you're five. Defining Scene: The first time Aslan is revealed.
Thomas Bowler
Super Reviewer
The Lion, the Witch and the Wardrobe Quotes
There are no approved quotes yet for this movie.