Maggie's Plan
(2016)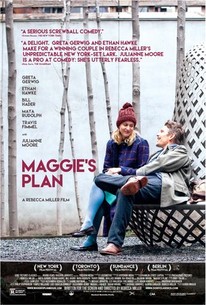 TOMATOMETER
AUDIENCE SCORE
Critic Consensus: With a typically absorbing performance from Greta Gerwig leading the way, Maggie's Plan gives rom-com sensibilities a smart, subversive twist.
Movie Info
A young woman longing to start a family (Greta Gerwig) becomes involved in a complicated love triangle with a professor (Ethan Hawke) and his theorist wife (Julianne Moore). Maggie's Plan received its world premiere at the 2015 Toronto International Film Festival.
News & Interviews for Maggie's Plan
Critic Reviews for Maggie's Plan
Audience Reviews for Maggie's Plan
I liked this offbeat romantic comedy, which has smart dialog, a strong cast, and an indie feel. Ethan Hawke is an outstanding actor, and his performance in this movie is no exception. I loved the scene where he explodes after having found out about something his wife has done (I'm being deliberately vague here). Greta Gerwig plays her part with just the right touches of awkwardness, honesty, naiveté, and intelligence, and despite her scheming, her character is quite lovable. The scene where she's with her baby blowing bubbles in the bathtub is quite sweet, among many others. There are bits of wry comedy from Bill Hader and Maya Rudolph, and I found Julianna Moore's character and her accent amusing from beginning to end, but it's all pretty subtle. You may see the ending coming, but the parts in the middle may keep you off balance, and the pace of the movie is good.
Antonius Block
Super Reviewer
You put Greta Gerwig together with Ethan Hawke and Julianne Moore and add some great dialogue and you almost pull it off..except for the ending which almost derails it. Disappointing at the end.
John Ballantine
Super Reviewer
½
Greta Gerwig is one of the most interesting young stars in Hollywood. She consistently chooses interesting, under-the-radar projects that deal with human issues in a unique way. Maggie's Plan struggles to balance a grounded story that's centered upon one ridiculous romantic (or rather, unromantic) plan. Goofy, eccentric, and mostly well-acted, Maggie's Plan is a good attempt at a Richard Linklater comedy-romance-drama plot. Really though, this film is a stranger version of Linklater's Before Trilogy. Only, it's much harder to relate to for a 22-year-old guy yet to be married or having any sort of mid-life crisis. The film deals with a half-dozen adult characters who have no clue what they truly want out of a relationship. Maggie, played by Gerwig, has an affair with John (Ethan Hawke) which ruins his marriage. In turn, the two get married, but struggle to bolster a relationship on their own. And so, thus gives us our main conflict, Maggie attempts to arrange John back up with his ex-wife to ease the pain of an actual divorce. Yes, it's that ridiculous. I think this premise is better off as the basis of a straight comedy. At times, Maggie's Plan takes itself a little too seriously and forgets just how hard to believe its own ideas are. Should I be worried for the sanity of the main characters or should I take the ridiculousness for what it is and laugh about it? That's the constant argument I had throughout, and I don't know that the film even knows the answer. The saving grace is that all of the actors are so dang charming and charismatic that it's hard to not like their work here. Gerwig has this angelic poise to her performance, and Ethan Hawke is Ethan Hawke. He's great in everything. Not to mention the levity brought by Bill Hader and Maya Rudolph in supporting roles, Maggie's Plan is one of the better ensemble cast assembled of this year. However, I found Julianne Moore's accent to be incredibly distracting. She's a world class actress, but I'm not sure this was her best work. Maggie's Plan doesn't try to be the most charming nor the most poignant, but that's really the film's biggest issue. It has no real identity. When plot progression is made you don't know how to feel because there is no true basis or end goal in mind. So what could have been a goofily unpredictable rom-com-dram, turned out to be a disappointing and forgettable film for 2016. +Gerwig is always charming +Hader & Rudolph kill it -Moore's accent -Identity crisis -Difficult to connect to 5.0/10
Thomas Drufke
Super Reviewer
Discussion Forum
Discuss Maggie's Plan on our Movie forum!