Map of the Sounds of Tokyo
(2009)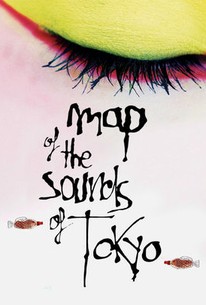 AUDIENCE SCORE
Critic Consensus: No consensus yet.
Movie Info
A hired killer makes the mistake of falling for her quarry in this stylish thriller from Spanish writer and director Isabel Coixet. Ryu (Rinko Kikuchi) is a beautiful woman who works in a fish market in Tokyo, but she also leads a secret life as a professional assassin who performs hits for high-paying clients. Ryu is approached by Ishida, an assistant to powerful businessman Mr. Nagara (Takeo Nakahara). Nagara's daughter Midori took her own life after a bad breakup with David (Sergi Lopez), a wine dealer from Spain, and Nagara believes David is responsible; Ishida, who loved Midori from afar, wants David to pay with his life. Ryu approaches David at his shop prepared to kill him, but she's immediately taken with his good looks and charm, and the two spend the night together. Ryu doesn't think she can murder David and tries to call off her assignment, but this turns out to be more difficult than she imagined. Map Of The Sounds Of Tokyo was an official selection at the 2009 Cannes Film Festival.
Critic Reviews for Map of the Sounds of Tokyo
Audience Reviews for Map of the Sounds of Tokyo
What a pretentious and dull movie. The movie is beautifully directed but thematically the movie is an absolute mess. There's no story to speak of, other than characters moping around worse than the people in Twilight. There's a narrator that never really serves any purpose in the story, other than to add to the pretentious feel. It take its talented leads and doesn't do anything interesting with them, other than sex scenes. Now see some of these sex scenes serve a purpose for David's character, in that he's using sex as a way to forget about his dead wife (or girlfriend). So I was fine with the sex scenes past a certain point. But other than that, with the exception of the cinematography, this movie is an unmitigated disaster that only the likes of Gus Van Sant (and Isabel Coixet) can pull off.
Jesse Ortega
Super Reviewer
½
"Map of the Sounds of Tokyo" starts with a feast that Michael Fassbender's character from "Shame" would definitely approve of. On the other hand, Nagara(Takeo Nakahara) is less than thrilled but calms down when told that eating hot sushi out of a woman's navel is occasionally the price of doing business. But then he erupts when told of his daughter's suicide. Still angry days later, he does not think it fair that while his daughter is dead, her lover, David(Sergi Lopez), a Spanish wine merchant, is walking around...and that's where Ryu(Rinko Kikuchi), a night worker in the fish market, enters our story. During the day, she is followed around by a sound technician(Min Tanaka) who records her eating soup and accompanies her to the cemetery. Isabel Coixet's films are usually concerned with loneliness and her latest, "Map of the Sounds of Tokyo," is no different with its moody atmosphere. Thoughtfully made, the movie explores the lack of communication between people that cannot always be blamed on different languages. In his three years in Japan, Sergi has only learned the most basic of words. Learning the language would definitely be useful not only in his line of work, but also in not having Nagara hate him. In any case, we can never with any certainty know what the other person is thinking, especially if they are not willing to let us in.
½
Throw this one in the "great concept, flimsy execution" pile. If Isabel Coixet had pulled this off, it would have been an absolute knockout: one part Lost in Translation, one part Leon the Professional, one part The Conversation. I couldn't imagine a more charged mixture. Unfortunately, the challenge existent in realistically representing all of her ideas overcame her, as I imagine it would many other filmmakers. The greatest hurdle was convincingly portraying a romance between a Japanese fish-gutter/assassin and a Spanish wine seller whose only common language is English. Her choice in acting talent is strong, but Rinko Kikuchi doesn't quite have the range of expression or grasp on linguistic nuance that allowed Maggie Cheung to pull off a similar stunt in Clean. Sergi Lopez, meanwhile, is stranded by the utter vacuity of the character - after an hour and a half with him, the only defining trait he left me with was a propensity for really bad Depeche Mode karaoke. The chemistry between these two characters is understandable in theory (much like the rest of the film), but watching them stumble around their lines is borderline painful to behold. I also felt that, for the film's apparent interest in sound, the sound design itself isn't anything special. With such an evocative title, I couldn't help but imagine a film defined by its ambient noise, drawn out in sonic vectors, with each setting's atmosphere especially important to what's happening on screen. Not so. Map of the Sounds of Tokyo isn't a complete failure. The movie is gorgeous, but carries with it an intriguing sterility, sort of like a bloodstained perfume commercial. It has a dark, mysterious core that stays with you for a bit after the film's over; you're likely to look back on it favorably, even if the process of watching it isn't very satisfying. Some of Coixet's setpieces are very imaginative and might have really popped in a movie with a little more life. This is not that movie.
Drew Smith
Super Reviewer
Map of the Sounds of Tokyo Quotes
There are no approved quotes yet for this movie.