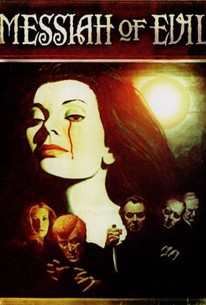 Messiah of Evil
1975, Horror, 1h 29m
3 Reviews
500+ Ratings
Where to watch
Rent/buy
Subscription
Rate And Review
Movie Info
While searching for her missing father, a woman (Mariana Hill) comes to a town crawling with flesh-eating zombies.
Audience Reviews for Messiah of Evil
A Lovecraftian tall tale enhanced by giallo elements, Messiah of Evil is a feast for the eyes. Red and blue saturated scenes complement the slow panning of "death" paintings and haunting narration of a father's warning as the beautiful daughter stumbles blindly into a coastal town nightmare. Fleeting shots of major brands like JC Penney and Mobile Gas that have disappeared into the trash heap of the past will forever make this early 70's cult classic a time capsule of the dreary past. A movie that initially struggled to define itself -- alternatively named Return of the Living Dead, Revenge of the Screaming Dead (the dead don't scream at all here), The Second Coming, and Dead People -- ultimately settles into it's appropriate name and rightful place in cinema history, and it's influence can still be seen in subsequent classics such as: Dawn of the Dead (1978) - grocery store zombies The Shining (1980) - room 237 Dead and Buried (1981) - seatown zombies The Howling (1982) - the Colony retreat Demons (1985) - movie theater zombies In the Mouth of Madness (1994) - insane asylum This may have also influenced Stephen King's early work -- the aforementioned Room 237 where Arietty meets Thom for the first time; the small town vampires of Salem's Lot; the coastal setting that brings to mind Captain Trips from The Stand and the short story "Night Surf." In fact, that could be another title for the movie -- Night Surf. Don't turn your back to the ocean, especially at night, as you have no idea what will emerge and sweep you away.

I got this movie in a DVD pack of vampire flicks, but it's not a vampire movie really. It's really creepy and I really liked it, even though I was disappointed about there being no vampires. Check it out, it's good.

Much better than I was expecting from a low-budget horror movie, especially one that's in the public domain and has multiple titles. Rock solid performances, strongly developed characters, a genuinely creepy atmosphere. All three can be found in this movie, and for a price that can't be beat: free. Anyone who's interested can find it on YouTube in bits and pieces, or in its entirety at this address.: http://thecinemasnob.com/2009/09/01/public-domain-theater-messiah-of-evil.aspx

Very pleasant surprise from the dvd collection it came on. Very well shot, some creative scenes, and of course, plenty of zombies. A nice little low budget horror flick.
See Details