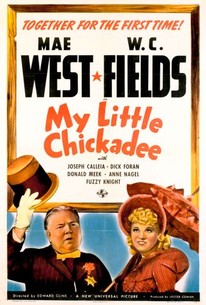 My Little Chickadee
1940, Western/Comedy, 1h 23m
14 Reviews
500+ Ratings
Where to watch
Rent/buy
Rent/buy
Rent/buy
Rate And Review
My Little Chickadee Photos
Movie Info
When a gold-digging singer, Flower Belle Lee (Mae West), is kidnapped by a masked bandit, the town goes wild with speculation. When she returns unharmed, and is later seen kissing the bandit, she is tried by a judge and thrown out of town. On a train she meets a con man, Cuthbert J. Twillie (W.C. Fields). Mistaking him for a wealthy man, Lee marries him on the spot. From there the two engage in a series of petty cons and deceits that bring Twillie ever closer to the gallows.
Audience Reviews for My Little Chickadee
even i do like mae west but i didn't enjoy this movie. the reason i choose to review it now is because i feel like to vent!

The combination of W.C. Fields and Mae West winds up being not as good as it sounds. My Little Chickadee takes place in the old west. When Mae West falls for a "Zorro" type masked bandit, she's sent to live in another town to keep her honor intact (har har). On the train ride, she meets W.C., and mistakes his satchel full of whiskey coupons for a sack full of money and agrees to marry him in order to get that money. Meanwhile, W.C. is appointed sheriff of the town by the local bar owner (who sort of controls the town), as he thinks W.C. will make a good patsy. Add to this the local newspaper publisher, who's on a crusade to clean up the town and make it wholesome. Of course, all of the above men are in love with the aging West. And who could help themselves? She doesn't recite her lines so much as purr and growl them. West is all affectation and innuendo, and it's not particularly good innuendo. Her performance is very flat, to say the least, and as she was nearing 50 at the time (albiet a very attractive and young-looking 50), her schtick isn't very convincing . W.C. gives it his best, but the material just isn't up to his usual standard. It's a typical cowboy type picture with very little enthusiasm from the cast. I can't remember any of the gags, other than West limp-wristedly shooting indians out the train car window with deadeye accuracy. Pretty forgettable.

I?ll be honest, I was screwing around on the computer while I was ?watching? this, so I didn?t get a whole lot out of it. The film provides a fairly inspired on screen pairing of Mae West and W.C. Fields, two sort of old-timey vaudeville types both with a slightly raunchy (for the time) edge. The film?s western storyline is pretty stupid, it?s mainly an excuse for the two to engage in their trademark banter. This might actually be the first time I?ve actually watched a Mae West film, though I was pretty familiar with her shtick, which has permeated pop culture. I can?t say I was very impressed by her, her signature way of speaking got old as hell pretty quick. I was a lot more familiar with Fields, but he doesn?t really seem to be ?on? here. Overall this was a big piece of meh.
See Details